10 great neighborhoods you've never heard of
Window-shopping for neighborhoods is fun. Here are some of the coolest around the country.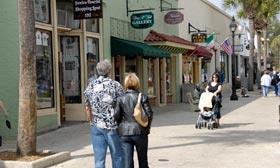 If you like window shopping for real estate, you probably also love window shopping for great neighborhoods. The Internet is your enabler in this, letting you search for maps, restaurants, playgrounds, schools and that indefinable something that makes you long to live in a place.
USA Today and USA Today Travel's 10Best came up with 10 supercool neighborhoods around the country where, I don't know about you, but I'd just love to live.
Post continues below
The paper doesn't rank them from good to great, so you've just got to assume they're all intriguing. In no particular order, here's a handful of them:
Boston: The Seaport District
This revitalized, formerly "rotten" industrial part of Beantown has been a priority of Mayor Tom Menino, says this Boston Magazine profile of Seaport. It became a favorite dining destination for Bostonians when the $6 million Liberty Wharf development opened in spring 2011, bringing more and varied eateries. "With an easy highway off-ramp and plenty of parking, suburbanites were suddenly able to come in for a high-end dinner on the harbor," the magazine says.
Nashville, Tenn.: East Nashville
East Nashville has an indie identity, as you can see from a visit to the Historic East Nashville Merchants Association. The business directory offers a capsule look at the district, from a body-waxing salon to a whole-foods market, from a neighborhood charity to an indoor advertising company called Graffiti. USA Today calls East Nashville "a breath of fresh alternative air" compared with the crowds in downtown.
A tree grew there (in Brooklyn, that is -- here's a YouTube clip from the 1945 Elia Kazan movie of Betty Smith's classic novel) and now French cafes, wine shops, small grocers and boutiques sprout amid Brooklyn's famous brownstones. A major Cobble Hill destination, says USA Today, is "96-year-old Staubitz Market, one of New York's oldest and most respected butcher shops." How New York is that?
Seattle is a city composed of many neighborhoods. Some, like Ballard, function just like little towns. In fact, Ballard was its own city for 18 years after its founding in 1889. The waterfront village was built around lumber and shingle mills. It grew into the home port for a large fleet of commercial fishermen, many of them Scandinavian immigrants. Today, this quaint neighborhood is a hipster paradise, with the usual shops and eateries and far more than its share of clubs that add up to a hopping nightlife.
Jamie Bartosch of 10Best calls Wicker Park Chicago's trendiest neighborhood. Why, you ask? Residents tend to work in creative fields, Bartosch says, so they're out and about at all hours of the night and day. "Countless coffee shops, food trucks and a farmers market vie with inventive eateries for dining dollars."
For the remaining five coolest neighborhoods, check USA Today's story, 10 best neighborhoods that tourists haven't found yet.
FIND YOUR DREAM HOME OR APARTMENT
msn real estate is social
WHAT'S YOUR HOME WORTH?
HOME IMPROVEMENT PROFESSIONALS