10 top 'booming suburbs'
Coldwell Banker rates 1,500 U.S. suburbs based on economic and lifestyle factors. Four of the top 10 were in Washington, with two in Florida, two in Utah, one in Louisiana and one in Tennessee.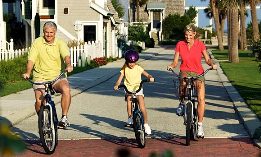 For those who like a suburban lifestyle, the country is filled with subdivisions of all kinds, some nicer than others. Coldwell Banker, as part of its Best Places to Live project, has picked the top "booming suburbs" in the United States.
The suburbs were evaluated based on employment, schools and services, among other factors. You can find data on all the suburbs here.
"As America continues to bounce back from the recession, this ranking identifies suburbs that have shown strong economic growth since the recovery," Budge Huskey, president and chief executive officer of Coldwell Banker Real Estate, said in a news release. "These communities have the American ideals we love, the suburban dream intact and a population that is finding jobs at a better rate than the national average. That is the definition of a thriving community."
Post continues below
Four of the top 10 booming suburbs are in Washington state, two are in Florida and two in Utah. Louisana and Tennessee have one each.
The survey evaluated 1,500 communities, looking at changes in unemployment year over year and the rate of unemployment, as well as access to stores and services, community safety, commuting and schools. The suburbs were ranked from 1 to 1,000, with 1,000 being the best score.
The top "booming suburb" was Cottage Lake, Wash., about 30 minutes from downtown Seattle. Coldwell Banker writes: "Resembling an idyllic 'Leave It to Beaver' setting, situated on a beautiful lake, this unincorporated suburb hosts many individual IT, finance, insurance, medical and biotechnology firms, but also benefits from nearby Internet, retail and other corporate headquarters in downtown Seattle." Cottage Lake scored a perfect 1,000.
The nine other suburbs rounding out the top 10 were:
Prairieville, La. (suburb of Baton Rouge).

Fruit Cove, Fla. (suburb of Jacksonville).

Sammamish, Wash. (suburb of

Seattle-Tacoma-Belle​vue).

Mercer Island, Wash. (suburb of

Seattle-Tacoma-Belle​vue).

Riverton, Utah (suburb of Salt Lake City).

Brentwood, Tenn. (suburb of Nashville).

Lehi, Utah (suburb of Provo-Orem).

Cooper City, Fla. (suburb of Fort Lauderdale).

Maple Valley, Wash. (suburb of

Seattle-Tacoma-Belle​vue).

 
FIND YOUR DREAM HOME OR APARTMENT
msn real estate is social
WHAT'S YOUR HOME WORTH?
HOME IMPROVEMENT PROFESSIONALS
more on msn real estate