20-plus Frank Lloyd Wright homes for sale
Houses designed by the famous architect all over the country, in various styles and built from the 1890s to the 1950s, are seeking new owners. Prices range from $690,000 to $5.6 million.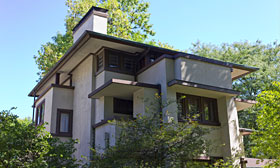 If your dream has always been to own a home designed by Frank Lloyd Wright, you may have a better chance than you think.
According to a map compiled by Curbed, at least 20 homes by the famous architect are on the market nationwide, in 10 states. Prices range from $690,000 to $5.6 million.
The largest number of Wright homes for sale is in Illinois, nine in the Chicago area. Two Wright homes are for sale in California, plus one we found that's not on the Curbed list. You can also buy a Wright home in Montana, Wisconsin, Virginia, Ohio, New Jersey, Washington, Minnesota or Wisconsin.
The least expensive home is in Cloquet, Minn., a town of about 12,000 that's 25 miles west of Duluth. The R.W. Lindholm residence, built in 1952 and being sold by the original owners, includes 15 acres, the blueprints and custom furniture. The house is about 2,300 square feet with three bedrooms, two baths and a two-car garage, and the asking price is $690,000. The same family built a gas station in Cloquet in 1956 from Wright designs; it is for sale for $750,000.
The most expensive home on the list is not simply a house but a 250-acre ranch property in southwestern Montana. The Como Orchards Summer Colony was designed in 1909 as a subdivision, which was to have about 50 homes, plus a clubhouse and other buildings. Twelve were built, but most have been demolished. A three-bedroom house and a cabin designed by Wright remain, as well as a lodge that was built later in the Prairie style. Asking price for the  property now known as the Alpine Meadows Ranch is $5.6 million.
Four of the Chicago homes were built in 1892, and they are more a Queen Anne style than Wright's low-slung Prairie style. Several of the Chicago-area homes have been on the market for several years.
Among the 20 homes for sale are:
The

Andrew B. and Maude Cooke house

in Virginia Beach, Va., completed in 1960 after Wright's death. It has been listed for $3.75 million since 2011. The lakefront home has about 3,000 square feet, and much of the original custom furniture remains.

The

Gerald B. Tonkens home

in Cincinnati, completed in 1955. Wright designed the 3,123-square-foot home but never saw it. His grandson supervised the construction. The house that Wright's office designed for the family cat is no longer there. Asking price is $1.79 million.
One Wright home for sale that's not on the Curbed map is the Berger home, which Wright designed for the homeowner to build himself. That home is famous because Wright later designed a house for the family dog. Since we wrote about the home in August, the price has been dropped from $2.5 million to $1.99 million.
FIND YOUR DREAM HOME OR APARTMENT
msn real estate is social
WHAT'S YOUR HOME WORTH?
HOME IMPROVEMENT PROFESSIONALS
more on msn real estate