Credit unions offer no-down-payment mortgages
Loan officers say the products have performed well. Other options for loans with low or no down payments also are available.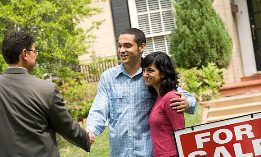 Mortgages with no money down are back, if they ever left.
Two credit unions, the NASA Federal Credit Union and Navy Federal Credit Union, are offering members mortgages without requiring any down payment or mortgage insurance.
"We underwrite all of our loans so our members can succeed with the loan," Katie Miller, vice president for mortgage products of the Navy Federal Credit Union, told the Credit Union Times.
While there has been lots of talk since the real-estate bust about requiring homeowners to have more "skin in the game," more homeowners are turning to the Federal Housing Administration, which allows homeowners to put down as little as 3.5%, and the Department of Veterans Affairs, which offers no-down-payment loans.
Other lenders allow down payments of less than 20% if borrowers pay for mortgage insurance. Some lenders are also providing 100% financing to wealthy clients.
The NASA credit union restricts its no-money-down loans to mortgages in the Washington, D.C., suburbs, a market it knows and believes has hit bottom, according to the Credit Union Times, and also applies tighter underwriting standards. The credit union holds the loans in its portfolio, because they can't be sold in the secondary market and backed by Fannie Mae and Freddie Mac.
The Navy Federal Credit Union underwrites no-down-payment mortgages the same way it underwrites other loans. It allows sellers to pay up to 6% of the purchase price and makes $2,500 available to help members with closing costs, according to the Credit Union Times.
Both credit unions said the loans have performed well.
"We know and trust our members, and we believe they know and trust us," Richard Morris, vice president of mortgage products at the Navy credit union, told the Credit Union Times. "It really is all about our members. They understand how the credit union seeks to help them, and they want to help the credit union, too."
While many have attributed the foreclosure crisis to homeowners who made no or low down payments, even a 20% down payment would not have kept their loans from going underwater in hard-hit areas such as Miami and Las Vegas.
So far, the definition of a qualified residential mortgage, which grants certain protections to the lenders, does not specify a down-payment level. Setting such a limit is still under consideration.
Do you think lenders should require higher down payments, or should homebuyers have the option of low or no down payments?
FIND YOUR DREAM HOME OR APARTMENT
msn real estate is social
WHAT'S YOUR HOME WORTH?
HOME IMPROVEMENT PROFESSIONALS
more on msn real estate