Dream of a handmade house lives on
A recent book looks at the history of homes built by hand, a movement that was particularly strong in the 1960s and '70s.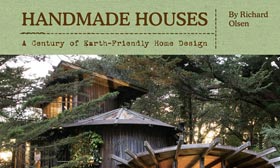 When I was looking for my first house years ago, one of the first homes I looked at had been built by hand. It was a small, wooden building, just one bedroom. The owner had since built a second, larger house next door to accommodate a growing family.
I was charmed by the idea of living in a handmade house, but eventually decided against it because it was too far out of town.
The idea of building your own house, by hand, is still a dream of many people, generations after it was a necessity for the country's pioneers. "Handmade Houses: A Century of Earth-Friendly Home Design" by Richard Olsen, author and a former editor at Architectural Digest, looks at the history of homemade houses around the world.
Post continues below
Bill Lahay explains how the handmade house movement gained popularity during the back-to-nature movement in the 1960s and '70s:
Those decades experienced a confluence of historical events and trends — the war in Vietnam, a burgeoning environmental and counterculture movement, experimentation with international influences and psychedelic substances — that gave the handmade house movement a unique new tone. In addition to the practical issues of providing shelter, these dwellings allowed for self-expression, a canvas for self-portraiture in wood, glass, steel and stone.
Olsen's book looks at artisan homes from simple to elaborate. You can see photos here and on his blog.
My mother's parents put their own house together in the 1930s from a kit ordered from Sears Roebuck, delivered by rail to their Appalachian Mountain home. By the time I was old enough to be interested, nobody was left who remembered exactly who put it together.
The artisan home movement is enjoying a new popularity in some circles, including among some lovers of small homes and advocates of frugal living. Two women in California built their own tiny homes for about $4,000 each, using salvaged materials, and are helping others do the same.
And you can still create your own home from a kit. Shelter-Kit, a company in New Hampshire, has been selling complete home kits since 1970. The company says that 85% of its homes are constructed by people with no building experience.
Are you sure you want to delete this comment?
FIND YOUR DREAM HOME OR APARTMENT
msn real estate is social
WHAT'S YOUR HOME WORTH?
HOME IMPROVEMENT PROFESSIONALS
more on msn real estate