Drew Barrymore selling home where she got married
The actress is asking $7.5 million for the 2-acre Montecito, Calif., estate where she and Will Kopelman had their wedding last year.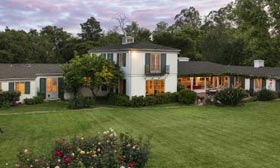 Drew Barrymore  has put her home in Montecito, Calif., up for sale for $7.5 million.
The estate, on two secluded acres in the affluent town 10 minutes from Santa Barbara, was the site of her June 2012 wedding to Will Kopelman, an art consultant. The couple have an 8-month-old daughter, Olive.
Barrymore bought the house in June 2010 for $5.705 million, apparently as a weekend getaway. Her permanent residence is in the Hollywood Hills.
Post continues below
The traditional-style house, built in 1937, has six bedrooms and 7.5 baths, plus a guest house, in 6,258 square feet. The home also has a four-car garage.
"This Old World estate enjoys many wonderful features only found in the classic homes built in the 1930s, and it remains a family home of understated elegance and rich history in a secluded setting of calm and beauty," the listing says. It was designed by Santa Barbara architect Chester Carjola, who also designed the Museum of Natural History Auditorium in Santa Barbara and the University of California, Santa Barbara, Library.
The property, with lots of mature trees, is reportedly a beautiful setting.
"The parklike landscaping is spectacular," the listing says. "A large brick terrace is the ideal spot for outdoor entertaining and enjoying beautiful mountain vistas. The back garden is carpeted with lawn and ringed by stately trees. Beds of roses, flowering shrubs and fruit trees dot the lawn."
The house is decorated in a traditional style, and it has such Old World features as a paneled living room.
The Real Estalker thinks the kitchen may not be a selling point:
Depending on one's point of view the kitchen is either loaded with vintage charm or a hot damn mess in desperate need of a redo. A Subaru-sized center island girdled by eight (or more) bentwood stools has a sunshine-yellow countertop that just about but not quite matches the rather unusual yellow-and-white checkerboard linoleum flooring, while the white cabinetry that runs around the room has heavily shellacked, dark wood countertops. Whatever one may think of the room's decorative style, listing information indicates the kitchen is supremely equipped for large parties, with two vintage-style refrigerators (that for some reason are not the same color), two dishwashers and an identical pair of heavy-duty, commercial-style ranges.

It would make a great "safe house" for future "undocumented" immigrants. Spacious.. lots of places to store drugs.. mansion.. the kind of lifestyle they crept across the border for.

They would be living near lawns that need mowing and rich homes that need cleaning.  That makes it easier to carry loot that is bigger, better, and higher quality.

Are you sure you want to delete this comment?
FIND YOUR DREAM HOME OR APARTMENT
msn real estate is social
WHAT'S YOUR HOME WORTH?
HOME IMPROVEMENT PROFESSIONALS
from our partners