Housing market climbs farther out of hole
New reports show recovery solidifying with prices up 7.1% from a year ago.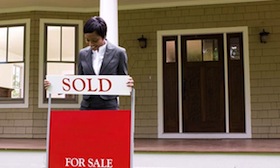 A handful of new reports show the real-estate market continuing to climb out of the housing recession.
Trulia, the online real-estate marketplace, has been handicapping the recovery with its "Housing Barometer." Today, the barometer shows the market at 56% of normal, based on March numbers. That's up from 43% six months ago.
Post continues below
The government updated its index that measures changes in home prices. Prices for all types of homes rose 0.7% from January to February. That's a 7.1% increase over the same time last year, says the Federal Housing Finance Agency report (PDF).
The rise in home prices hit a peak in April 2007. Today, it's back at where it was in 2004, when the bubble was just starting to inflate. See home-price appreciation since 2002 at a glance in this FHFA fever chart.
Also, today, sales of new single-family homes showed strong improvement. The number of new homes sold grew by 1.5% in March after falling 4.6% in February, the Census Bureau (PDF) report says. 
These March numbers, showing 417,000 homes sold, are an 18.5% increase from a year ago, when an estimated 352,000 new homes sold.
The median price paid for a new home in March was $247,000, the Census Bureau says. The median price for all types of existing housing was $184,300 in March, the National Association of Realtors reported. That's 11.8% over what it was in March 2012.
The housing recovery appears more solid with every month that passes. It's been 13 months since the FHFA recorded a drop in home prices, in January 2012.
A small skunk got into the garden party of positive real-estate news Monday, however, when the NAR announced that the number of existing homes sold fell a bit -- 0.6% -- from February to March. They showed a 10.2% increase from March 2012.
Lawrence Yun, the NAR's chief economist, blamed the drop on a scarcity of homes for sale. Many would-be sellers may have mortgages that are underwater. If so, they're presumably waiting for rising prices to put some cash in their pockets when they sell, or at least to help them avoid a short sale and the credit wound it can inflict.
Homes of all types, new and older, are selling more quickly than a year ago. In some markets, including many California cities, prices are being pushed up by competing offers when a home sells.
In an article headlined Bidding Wars are Back, real-estate brokerage Redfin told CNN in March that 75% of its agents (in 15 states and Washington, D.C.) said their clients' offers were countered by bids from rival buyers. "At least two-third of listings in Boston, Washington D.C., Seattle and New York generated bidding wars," CNN says.

The prices for housing too a nosedive.  A seven percent increase is like nothing.  Also, look at where the prices increased.  We make it would like it was all over the US, and it is not.  Now we have obama and his administration telling banks to give out high risk loans again.  Less money down and not factoring in potential home buyers income to debt ratio.  The democrats are setting us up for another housing and mortgage crisis.  obama told the banks that the federal government will back the loans and that they will not prosecute them for doing this.  When will people wake up and see the real damage that the democrats are doing to our country?
Right, here we go again another growing bubble with government leading the way to more disaster. The true indicator is the growing national debt and the disastrous unemployment numbers. The housing market is becoming like the stock market, rising on false hope and hype. 
Of course the NAR will never admit that, oh yeah the economy is booming.

Why should we want house prices to rise.? half the country does not own a house.The half that does is mainly a one house owner. my remarks do not cover owners of two or more properties but the bulk of US home owners.
A house is a house is a house. If your home goes up from $200000 to $300000 what have you made. NOT$100000. Sell your home to move up the ladder and those homes have gone up proportionately or ,in cash terms by more. Sell your home to down size, and take the so-called $100000 profit  (ignoring the costs involved)and you could move into a trailer park if that's what you want.Take out a reverse mortgage and see your kids inheritance evaporate. The paper gain makes you feel good ,encourages you to spend instead of save and leads inexorably to the next boom and bust.
Socially where are the less highly paid going to live if we have another boom /bust. .The qualified nurse, the young doctor , the young school teacher .the firemen cannot afford any such increases. They have to livre miles from their employment,spend hours on the road at high gas prices and do their essential duties tired out. is this what we want? 
Let house prices stabilise or FALL.Mortgages will be affordable,and those under water can still pay their monthly commitments that their salaries justified. they would prefer that to repossession.
Let the market heat up again ,the buyers and the lenders have short memories and wait to see what happens,probably in 2020. (Though my prediction of the 2008 slump was three years later   I reckoned on 2011, sorry.
Are you sure you want to delete this comment?
FIND YOUR DREAM HOME OR APARTMENT
msn real estate is social
WHAT'S YOUR HOME WORTH?
HOME IMPROVEMENT PROFESSIONALS