In some homes, kids get their own custom wings
Parents create secret passageways, a karaoke lounge, 'offices' for homework and other custom spaces to make their homes into the ideal hangout place.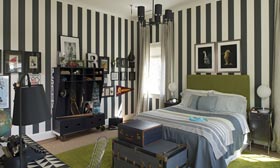 When I was a kid, my idea of a luxury bedroom was one that I did not have to share with my sisters, though I did do a little experimentation with changing the furniture placement and bedspreads. When I was a teenager, I even got my family's original black-and-white TV working again and dragged it into my room.
No one in my circle even dreamed of having his or her own DJ station, though some families did have "rumpus rooms" in the basement that were essentially hangouts for children and teens.
Even today, the $750,000 teen suite chronicled in a recent Wall Street Journal article is unusual. But, the WSJ says, more families are creating kid and teen hangouts to keep their progeny happy at home. Those custom kid spaces include everything from secret passageways to karaoke lounges to "offices" for doing homework.
Post continues below
"I wanted their friends to want to hang out at our house," Melissa Kearney of Ormond Beach, Fla., told The WSJ. "I think that's what every parent wants." Her home includes secret passageways as well as a version of the closet from "The Lion, the Witch and the Wardrobe" in her daughter's room.
Decoist has lots of ideas for nice kids' rooms with a modern flair, many of which you could create without going into debt. Zillow also has an idea gallery. You can see a slide show of the spaces in the WSJ article here.
Parents and designers interviewed by the WSJ noted that the kid spaces are as much for the sanity of the adults in the home as they are for the young people. Creating separate hangout spaces for teens means more tranquility in the rest of the home. Plus, parents know where their kids are.
"This is an extraordinarily loving and conscientious generation of parents," Michael Thompson, an Arlington, Mass.-based psychologist and author, told the WSJ.
Jenn Doll at The Atlantic Wire quips: "I wonder if the old 'Jen's Room! Keep Out!' signs are officially defunct at this point — or if they now come with fingerprint recognition and eyeball scanners."
Fancy kid spaces do not add to the value of a home and may even detract. Analysts and appraisers suggested that when families create these spaces, they have a plan to turn them into guest quarters and in-law suites later on – or even spaces to house those grown children when they visit someday with their children.

We turned our "formal living room" into a playroom years ago.  It was done mainly because when my kids were little I didn't want them running up and down the stairs all day to their rooms and the toys were taking over the den..so we put all the toys in the newly formed 'playroom'  over the yrs the toys have changed from barbie houses to Wiis and other games.we also have our piano and a desk computer in there.  Keeps the rest of the house clutter free and keeps them out in the open instead of up in their rooms with games.  When they leave..I'll turn it back into a formal living room or something more useful.
Are you sure you want to delete this comment?
FIND YOUR DREAM HOME OR APARTMENT
msn real estate is social
WHAT'S YOUR HOME WORTH?
HOME IMPROVEMENT PROFESSIONALS