Jessica Simpson buys Ozzy Osbourne's house
The pop star reportedly plans to turn Sharon Osbourne's massive walk-in closet into a nursery for her upcoming baby. The Osbournes sold at a loss.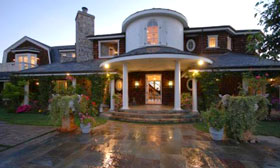 After almost two years, Sharon and Ozzy Osbourne have finally sold their home in the Hidden Hills suburb of Los Angeles. The buyer was pop star Jessica Simpson.
Simpson paid $11.5 million for the Cape Cod-style home, less than the nearly $12.389 million the Osbournes paid for the home in 2007. The house had been listed for $12.999 million starting in June 2011.
Despite the Osbournes' reputation for oddity, the house was featured in Architectural Digest and is not all what one might expect from the former front man of the band Black Sabbath. The house appears light and airy, with plenty of windows and lots of white and pastels. The 11,000-square-foot home is on 2.25 acres and has expansive views of the city and the mountains.
Post continues below
Celebrity designer Martyn Lawrence-Bullard, who created the eclectic décor, told AD the home was "very them. Easygoing but still opulent — with a little rock-star edge thrown in."
After they bought the home, the Osbournes did a major renovation, building enormous walk-in closets and his-and-her master baths. According to US Weekly, Simpson plans to turn Sharon's closet into a nursery.
Simpson is expecting her second child. She and Eric Johnson, who have a 9-month-old daughter, plan to be married at the home, according to media reports.
The sale was delayed after a fire started by a candle in January did some damage. No word on where the Osbournes plan to live. The Osbournes sold their Malibu home about a year ago for $7.95 million.
Singer Cristina Aguilera bought the house where "The Osbournes" reality TV show was made in 2007 and finally sold it in February after two years on the market. Last asking price was $13.5 million
FIND YOUR DREAM HOME OR APARTMENT
msn real estate is social
WHAT'S YOUR HOME WORTH?
HOME IMPROVEMENT PROFESSIONALS
more on msn real estate