Listing of the Week: Cher's modest Venice home
The pop superstar just sold a 4,000-square-foot Los Angeles condo and is seeking a buyer for her Malibu mansion, priced at $41 million. Her Venice house is listed for $1.89 million.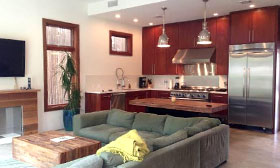 If we hadn't read it in Curbed and other online publications, we'd never believe this Venice condo belongs to Cher. It looks so understated, so normal and so the opposite of wretched excess.
Nevertheless, this 2,250-square-foot home is owned by the pop superstar, who has listed it for sale for $1.89 million.
The home, built in 2008, has three bedrooms and three baths and is on a tiny urban lot within walking distance of Venice Beach. Cher bought it for $1.54 million in 2010 and did an extensive renovation.
This is one of three Los Angeles-area properties that the superstar had on the market at the same time. Word is that her 4,000-square-foot West Hollywood condo, with Indian-themed décor by Martyn Lawrence Bullard, has just sold for $5.25 million, close to her $5.5 million asking price.
The 4,000-square-foot two-story condo in the Sierra Towers, which other celebs have also called home, has fabulous panoramic views. You can see a slide show from Architectural Digest here. The singer had owned the place since 2006, when she bought it for $3 million.
While it's not officially listed, word is that Cher is also trying to sell her 13,126-square-foot Italian Renaissance mansion overlooking the Pacific Ocean on a bluff in Malibu, at a more Cher-like price of $41 million. The home, built in 1999 to the star's specifications, has been informally on the market since 2008, when it was listed for $45 million. It was featured in Architectural Digest in 2002.
Cher, who has bought and remodeled a number of homes, told AD this about her Malibu home:
"Every room has two views of the ocean, each of which is so beautiful — the water is always glistening, the sunset always happening. My house is so special because it's my sanctuary, my fortress, really — the only place I have any privacy. There's no place else that I would rather be."
FIND YOUR DREAM HOME OR APARTMENT
msn real estate is social
WHAT'S YOUR HOME WORTH?
HOME IMPROVEMENT PROFESSIONALS
from our partners