Listing of the Week: DIY Frank Lloyd Wright
The architect designed a modest home for a California engineer to build himself at a cost of $15,000. It's offered for $2.5 million — minus the doghouse Wright designed later.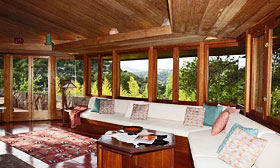 One of Frank Lloyd Wright's dreams was to design a home that could easily be replicated by people of modest means.
For the most part, that dream of the "Usonian home" was not realized, though Wright did build a home for $5,500 for a newspaper reporter in Madison, Wis., in 1937. But most of Wright's work was commissioned by the wealthy.
Around 1950, Robert Berger, a mechanical engineer and college professor, wrote to Wright and asked him "to design a home which was expandable, inexpensive and easy for one person to build." Plus, the home could cost no more than $15,000 to construct.
Post continues below
The architect obliged, and Berger spent most of the next decade building the home himself. That 1,760-square-foot home, north of San Francisco, is now for sale for $2.5 million – minus the doghouse that Wright designed later for the Bergers' son James.
The house has two bedrooms and two baths and is on almost an acre nestled in the hills in Marin County, with an expansive mountain view. Its exterior walls and fireplace are of "desert masonry," which mixes local stone with concrete. The home also is full of Wright-designed furniture, which Gloria Berger hired a carpenter to build after her husband's death in 1973. You can see photos here. Gloria Berger died last year.
Robert Berger loved the house, which he moved into with his wife and four children in 1957. He wrote in a letter to the author of this article:
"I, of course, when I started the house, had a dream. I wanted something that was beautiful first and utilitarian second. I found that the utility followed right along with the beauty, but to get to the beauty … it's hard to talk about it. It's a very emotional thing. I'm absolutely crazy about the house. It's almost like my own child. …
"I really feel sorry for people who live in a house they use strictly as a shelter from the elements. It's such a thrill to be feeling a work of art; actually living it. It's almost like a living thing."
The home also was the site of the only doghouse Wright was known to have designed, sketched out at the request of the Bergers' son James in 1956 though the family didn't build it until a decade later.
The original doghouse was torn down, but James and his brother built a new one recently for use in a documentary film about Wright.
FIND YOUR DREAM HOME OR APARTMENT
msn real estate is social
WHAT'S YOUR HOME WORTH?
HOME IMPROVEMENT PROFESSIONALS
from our partners