Listing of the Week: Estate that dates to 1607
Historic Virginia property was owned by one of the Jamestown colonists, a family that produced two presidents, a Titanic survivor and a congressman.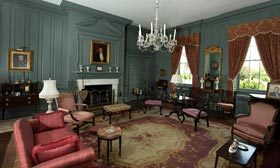 If you like a property with history, it's hard to find anything more historical than the Brandon Plantation in Virginia.
The original owner, Capt. John Martin, was one of the founders of Jamestown in 1607, and he was given the land in a grant from the king of England in 1616. He named it Brandon after his wife's family.
The brother of the second owner married William Shakespeare's daughter. The third family to own the property (for more than 200 years) was the Harrison family, with ties to U.S. presidents William Henry Harrison and Benjamin Harrison.
Post continues below
One portion of the house was reportedly designed by Thomas Jefferson, as a wedding gift to Nathanial Harrison's son, Benjamin, about 1765.
The property is on the National Register of Historic Places and was designated a National Historic Landmark.
The family that is selling the property acquired it in 1926. Robert W. Daniel Sr., a banker and state senator, had survived the sinking of the Titanic in 1912. His son, Robert W. Daniel Jr., who served five terms in the U.S. House of Representatives, owned the property and ran the farm until his death in 2012. 
His heirs are selling the estate at auction June 26. There is no asking price, but bidders have to put up $250,000. Prince George's County assesses the property at $10.3 million.
The Brandon plantation is a big piece of property – 4,487 acres with 3.5 miles of frontage on the James River. It's about 35 miles southeast of Richmond, due west of Colonial Williamsburg.
The main house, part of which was built around 1765, has 7,773 square feet, with seven bedrooms and 6.5 baths. The estate has a pool and a tennis court, plus 30 acres of formal gardens. There are 11 additional houses and 14 farm buildings.
It's a working farm – the oldest continuous agricultural operation in the United States – growing corn, wheat and soybeans on 1,5,77 acres, with an additional 2,846 acres devoted to timber.
The side of the house that faces the river still shows where cannonballs hit it during the Revolutionary War and the Civil War. Though the Daniel family did substantial modernizing of the house during their tenure, they did not erase those pockmarks.
"My husband said he didn't fix it because he still bore a grudge," Linda Daniel told The Richmond Times-Dispatch.
FIND YOUR DREAM HOME OR APARTMENT
msn real estate is social
WHAT'S YOUR HOME WORTH?
HOME IMPROVEMENT PROFESSIONALS
more on msn real estate