Listing of the Week: Historic California estate
A 30,000-square-foot mansion, meticulously restored to its 1914 roots, is for sale for $27 million, down from $45 million in 2008.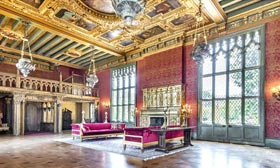 Perhaps you're a tech titan and you need a home where you can easily entertain 1,000 of your closest friends.
A historic estate in the Los Altos Hills above California's Silicon Valley is back on the market at a new, lower price: $27 million.
That's down from the original asking price of $45 million when venture capitalist Kelly Porter first tried to sell the Tudor-style home in 2008. The property, large enough that it was once a school, includes a 30,000-square-foot main house, a two-bedroom guest house, a utility building and just under eight acres of land with views of San Francisco Bay.
Post continues below
The home has seven bedrooms and nine baths, a massive ballroom, an enormous stone wine cellar and a secret room with a bar designed for sneaking libations during Prohibition.
The home was built in 1914 for Percy Morgan, a Welsh businessman who immigrated to the United States as a young man. He was one of the founders of the California Wine Association as well as several companies. The home, which cost about $400,000 to build and furnish, was modeled after a 16th-century estate in England. (The Los Altos Hills Historical Society has old photos of the home and family, plus lots of interesting history.) Morgan was seriously injured in an automobile accident in 1920 and shot himself to death in the living room several months later. His widow, Daisy, stayed at the home until the late 1920s, when she joined their two sons in Southern California.
The home, then on 100 acres of land, went through several owners, including flamboyant nightclub owner Gypsy Buys. By 1952, all but 10 acres of the original estate had been sold to pay for maintenance and taxes. After an extensive renovation, the Ford Country Day School moved to the property in 1955 and operated there until 1988. During that time, the property and school were sold to one of the teachers for $200,000, according to the historical society.
Porter and his then-wife, Christina, an interior designer, bought the home in 1999 for $5 million, according to the Los Angeles Times, and began a meticulous renovation designed to modernize the house while remaining true to its historic nature. The home is listed on the National Register of Historic Places and comes with significant property tax breaks because of that, according to the listing.
"This property is one of the greatest examples of Tudor architecture in the nation," listing agent Arthur Sharif of Sotheby's International Realty, told Zillow. "The thing I like about it is that they were very meticulous in bringing it back to its glory days. Everything is redone."

This property is insanely overpriced.  What misjudgment people have.  From $45 million to $27 million when the property was sold at one time for $200,000 and even then it probably was overpriced.  I pity the fool who purchases this property no matter where it is for this price, get a grip and stop being so selfish that you can look the other way to the poverty in this country, through no fault of the people themselves.  People like you should be providing and supplying help to the poor and needy.
Are you sure you want to delete this comment?
FIND YOUR DREAM HOME OR APARTMENT
msn real estate is social
WHAT'S YOUR HOME WORTH?
HOME IMPROVEMENT PROFESSIONALS
from our partners