Listing of the Week: Mies van der Rohe in Chicago
Acclaimed 'Stainless Steel Apartment' in landmark steel-and-glass tower overlooking Lake Michigan is for sale for $1.95 million.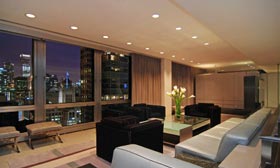 Residential steel-and-glass skyscrapers are so ubiquitous today that it's hard to imagine they were once a novel idea. But back in 1949, when architect Ludwig Mies van der Rohe designed a pair of modern, minimalist towers for Chicago's Lake Shore Drive, the plan was considered so radical the developer had trouble getting financing.
The "Glass House," completed in 1951, became the prototype for many more steel-and-glass residences around the country.
Developer Herbert Greenwald reserved a southeast corner apartment for himself, with a view of Lake Michigan. More than three decades later, in the late 1980s, new owners combined it with the apartment above it to create the building's only two-story apartment. It's now listed for sale for $1.95 million.
Post continues below
Nancy Hornak and Eric Schwartz commissioned architect Ron Krueck to renovate their space. He added a stainless steel staircase and many custom pieces, earning accolades for the renovation of what became known as the "Stainless Steel Apartment." The built-ins are being sold with the unit.
Chicago Magazine writes:
Coming down the staircase between the two zones, you'll find a clever way that the once-separate apartments were knitted together: a series of pieces made of different materials all connect, from the living room couch to the staircase and on to a lush wooden box that serves as a landing, a granite-topped banquette, a taller sideboard, and even the dining room table. "It's like living in a three-dimensional artwork," Hornak says.
Now that their children are grown, Hornak and Schwartz are moving to a smaller apartment in the building.
The unit has three bedrooms and 3.5 baths, plus an office and a laundry room, in 3,400 square feet. A parking space is an additional $60,000, and the monthly maintenance fee is $5,495.
Chicago Architect Michael J. Pado, who has lived in the building more than 35 years and renovated many apartments there, was a student when the towers were under construction.
"They were all that everyone talked about at the time," he told Preservation magazine. "Just as many people hated them as liked them. It was only after I was a few years into my studies that I realized how significant they were."
FIND YOUR DREAM HOME OR APARTMENT
msn real estate is social
WHAT'S YOUR HOME WORTH?
HOME IMPROVEMENT PROFESSIONALS
from our partners