Listing of the Week: Space Age house in Dallas
Country singer's circular, 14,795-square-foot home has a spectacular, curved infinity pool and a unique modern vibe. Asking price is $9.995 million.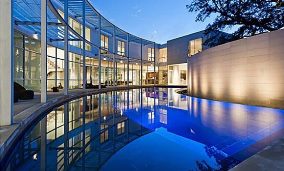 Dallas isn't known for its modern architecture, though it actually does have all kinds of modern homes, from midcentury modern to more recent contemporary designs.
One of the most unusual designs is a round home built in 2007 for country singer Darren Kozelsky and his wife, Amy. The 14,795-square-foot home sits on 1.77 acres in North Dallas.
The couple first offered the home for sale in January 2011, when Amy Kozelsky told Candace Evans of Candy's Dirt that they were testing the waters. After two months, the price was dropped to $9.5 million, and in September 2011, the couple took the home off the market. Now, it's back, with an asking price of $9.995 million.
Post continues below
The home has seven bedrooms, nine full baths and four half-baths. It features an infinity pool that curves with the interior courtyard and has a waterfall, lots of windows and a geothermal heating and cooling system. The photos show some incredible large bathrooms and an enormous master closet/dressing room.
The home also has a gym, media room, game room, playroom and two fireplaces.
"The concept of natural light is brilliantly planned in every room," the listing says. Unlike older Modernist homes, this one has light wood and lots of white. The home was designed by Lionel Morrison, one of Dallas' leading modern architects.
The property where the home was built was previously owned by Beck Weathers, a pathologist who was left for dead during a disastrous climb of Mount Everest in 1996 in which eight climbers died. But Weathers regained consciousness and made his way back to camp. He later wrote a book about his ordeal and the effect it had on his life, called "Left for Dead: My Journey Home From Everest."
FIND YOUR DREAM HOME OR APARTMENT
msn real estate is social
WHAT'S YOUR HOME WORTH?
HOME IMPROVEMENT PROFESSIONALS
from our partners