Looking into the 2013 real-estate crystal ball
Professional group sees potential risks in rising interest rates, looser loan standards and the potential for natural disasters. Gen Y also holds a big piece of the puzzle.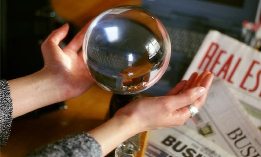 Rising interest rates, relaxed loan underwriting and natural disasters are all risks facing real estate in the next year.
Plus, the future of housing depends very much on whether Generation Y maintains its love of urban living or follows its parents to the suburbs when it's time to raise families.
Those issues are among the top 10 issues affecting real estate in 2013, according to Howard C. Gelbtuch, chairman of the Counselors of Real Estate, who spoke to a recent conference of the National Association of Real Estate Editors.
"Things have gotten too good, too frothy," Gelbtuch told the group, as reported by The Wall Street Journal. The top risk he listed was low interest rates and capitalization-rate risks.
He coupled this with the fact that lenders are beginning to relax standards for mortgages, which he sees creating a potential for problems.
"Debt markets have fallen in love with real estate again, and money is pouring back into the industry to finance new properties and refinance existing ones," the CRE wrote in a news release. "Underwriting requirements are becoming less stringent, and loan-to-values (LTVs) are increasing. Energy, agriculture and manufacturing industries are rallying, and recovery efforts along storm-damaged coasts provide opportunity for development. Multifamily investment is still strong following the recession. Such conditions raise concern that the U.S. could return to a period of too-lenient underwriting and overleveraging, similar to the pre-recession boom."
Alternatively, world economic uncertainty and money problems of state and federal governments could swing things the other way.
"Savvy investors will need to weigh all sides of this equation," the CRE wrote.
The housing preferences of the "echo boomers," those born between 1982 and 1995, will greatly affect the real-estate market because of their numbers. But exactly how won't be known until they get a little older.
Right now, echo boomers prefer urban living and are willing to live in smaller spaces to live closer to urban centers. If this preference persists as they grow older and become parents, that will significantly change the market.
"While cities welcome the inflow of young professionals, artists and tech workers, suburbs are grappling with a shrinking tax base and potential decreased demand for existing homes," the CRE wrote. "Officials in cities and suburbs alike are devising plans to improve housing options and mass transit to attract this population segment."
And there is a "known unknown": A political event or natural disaster could roil markets in a region or worldwide. According to the group:
In 2013, the potential for a world-altering event with major consequences for real estate is so high, it ranks as a Top Ten issue without having yet occurred. While it is likely a major event will take place with resulting consequences for markets, industries, communities and individuals, without a crystal ball, no one can predict what may occur, or when.
This is just another artificial bubble; as long as investor greed is driving the RE market it will never stabilize. 
Regular home buyers are being blocked from purchasing  homes by false credit report data and outdated bank requirements. This current bubble is being driven by investors with cash as long as that continues average Americans will not be the ones supporting the RE market. 

So many companies trying to give false accusations on peoples credit report because they no longer require their services or have done them wrong. Real estate agents collecting extra fees from buyers, Banks selling mortgages to lousy banks. Home repair rip offs, faulty merchandise, mail fraud in epic proportions. Better Business Bureau is a farse, Politicians never answer the phone or get in touch with you. Greed is everywhere, YIKES.

I hope the rates stay down, we have been trying to sell our house in the Poconos, we cannot drop the price anymore. We have gone from 307,000.00  years ago down to 189,000.00. We want to retire, but need the house sold. The house is in excellent & move in condition. This is no some dumpy house somewhere..
If mortgage rates go back up, this will delay things so much longer us. These banks need to slack off on the profits and give people a chance to own their own homes. After all it is part of the American Dream.
Are you sure you want to delete this comment?
FIND YOUR DREAM HOME OR APARTMENT
msn real estate is social
WHAT'S YOUR HOME WORTH?
HOME IMPROVEMENT PROFESSIONALS
more on msn real estate