Luxury condos abound in Miami's tight market
The report is a reminder that many micro-markets exist, divided by location and price point. Hyperlocal data matters when you're ready to buy or sell.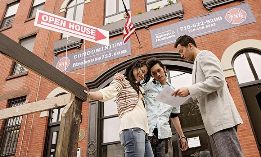 You might think from the talk about how hot Miami's real estate market is that all those luxury condos builders put up during the boom would be full.
In fact, there is a 15-month supply of luxury condo units for sale in Miami, not from developers but resale units, according to a new report by Condo Vultures.
The report is another reminder that real estate isn't just local, it's hyperlocal. And what's happening with properties at one price point may not be true at all price points.
Post continues below
You might be hard-pressed to find a nice condo for $150,000 in parts of South Florida. But if you're looking at the $1 million-plus range, you've got choices — 15.8 months' supply in the Miami area, 15.2 months' supply in the Fort Lauderdale area and 12 months of supply in the Palm Beach area, according to the report.
But if you look at the entire South Florida condo resale market, including all price ranges, there is only a 4.6-month supply of inventory — which means inventory is really scarce in the lower price ranges.
South Florida developers have proposed 140 new condo projects, with 18,200 additional units, many of them aimed at high-end buyers.
In Denver and Chicago, real estate agents are reporting a brisk trade in luxury condos, though neither report looks specifically at inventory levels.
"We have a lot of disappointed buyers," Ken Tutunjian, senior vice president for Coldwell Banker Residential Brokerage, told The Boston Globe in May. "Buyer demand is still very high. Right now, anything under $2 million is very, very, very active."
In Denver, the supply of condos in the $1 million and up price range available at the end of March was less than seven months, down from a 21-month supply at the same time last year.
"This is a case where luxury condos were the first to go down and they fell the most and now they are coming back very strongly," broker Gary Bauer, who compiled the report, said.
The moral of the story: If you're looking to buy or sell a home or condo, don't make decisions based on national statistics or even local stats. You want to find out what's happening with comparable properties in your neighborhood, at the same price point.
My son is relocated looking for a house in the south miami area, first 4 realtors cant' find  a house that will accept VA loan, short sales are WAITING for long list of offers that are taking 6 months to a year to closed or not accepting VA loan..,,same in foreclosures, interest are going up  ,,,four builders with new homes are $300,000 up with monthly payments over $2200 a month....is no way to  afford this type of mortgage when u can't find full time job.
Is not only how to afford a mortgage I know someone that works 10 years for a company now is unemployed because OBAMA health care the company was merge with another company n this company is giving his own employees the extra work.....

there's  nothing better in South Florida than Miami
the rest of the area inlcluding FT Lauderdale and West Palm Beach
who the heck goes there anyway???  LOL   except for some gay bars in Lauderdale  its
a waste!!!
id be afraid to get off I-95 in Ft, Lauderdale and head east to US 1      LOL
everyone knows Miami is the place to be  in South Florida and has the best and more diversified
economy    $$$$$$$$
yeah  Palm Beach attracts the over 60 crowd from the Northeast   Not for me   no thank you!!!!! 

Today's broker is yesterday's used car salesman and they will say anything to prop up or exaggerates the market for a sale to get the commish.  Anything to jump start the market.  The sharp speculators are still on the sidelines and will be until the high unemployment rate in Miami-Dade county starts to fall.   As for the international buyers for Miami they are still very leery.   Some of the statements are shameful.   So many
better deals in the Ft Lauderdale-West Palm area. 

Nonsense! The housing market is still in the dumps and the government wants people to believe that its on the upswing and prices too, but at the end of the day there is just a lot of junk on the market and the only reason prices are going up in some areas is because people aren't selling because prices aren't up enough to begin with. The economy is in the dumps too with over 25 million Americans out of work and these traitors want to give Illegal Immigrant parasites their "papers" when they should all be detained and deported from the USA by seizing their assets, their families assets and make their countries pay for these parasites. Can we detain and deport all Illegal Immigrants from the USA? Yes, we can!, Yes, we can!.
Are you sure you want to delete this comment?
FIND YOUR DREAM HOME OR APARTMENT
msn real estate is social
WHAT'S YOUR HOME WORTH?
HOME IMPROVEMENT PROFESSIONALS
more on msn real estate