Most and least attractive school districts
An analysis by Trulia finds that affordable homes in good school districts do exist — as long as you're willing to increase your commute.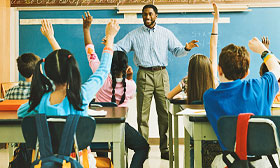 If you have a school-age child, one of the most important factors in choosing where you will live is the quality of the local schools.
Homes in good school districts nearly always sell for more money, though bad schools have not cut the popularity of close-in urban neighborhoods among those who either don't have children or can afford private schools.
Trulia did an analysis of moving patterns to determine which U.S. school districts are the most attractive to parents. The real-estate portal also looked at the districts that families with school-age children are most likely to leave.
Post continues below  
The conclusion: Moms and dads can't have it all — unless they're prepared to pay top dollar.
"To get an attractive school district and a short commute to downtown, be prepared to pay," wrote Trulia's chief economist, Jed Kolko. "If you can't afford top dollar in your region, you might find yourself having to choose between a great school district for your kids or a manageable commute for yourself."
The analysis also looked at the top school districts in Los Angeles (no, 90210 does not lead the list), San Francisco and Boston, as well as in suburbs surrounding New York City.
The analysis, based on census data and rankings from GreatSchools.com, works better in some areas than in others. Because it looked at moving patterns, it doesn't factor in the quality of schools where the entire town or (as in Florida) the entire county is a single district. Large-city school districts also may not be reflected accurately, since the quality of schools within a district can vary.
If you're wondering how your school district ranked, you can download a full list by state.
The five most attractive schools districts, with the average home price per square foot:
Saratoga Union Elementary School District (San Francisco Bay Area): $603

Lovejoy Independent School District (Dallas): $92

Cold Spring Harbor Central School District (suburban New York City): $322

Glencoe School District (Chicago): $277

San Marino Unified School District (Los Angeles): $536
The five least attractive school districts, with the home price per square foot:
Hoboken (N.J.) City School District (suburban New York City): $478

Orchard Elementary School District (San Francisco Bay Area): $299

Edgewater (N.J.) Borough School District (suburban New York City): $396

Alexandra (Va.) City Public Schools (suburban Washington, D.C.): $307

Palisades Park (N.J.) Borough School District (suburban New York City): $226
"We can see it in the migration trends of what 30- to 39-year-olds are doing. You may see a fair number of these people in this age group in the centers of cities, but there's a substantial outflow of these people when their kids reach school age," Kenneth Johnson, senior demographer at the Carsey Institute at the University of New Hampshire, told The Wall Street Journal. "Instead of going out and partying, they've got little kids to deal with."
How important was school quality to you when you bought your home? Does a longer commute seem a worthwhile trade-off for better schools?
FIND YOUR DREAM HOME OR APARTMENT
msn real estate is social
WHAT'S YOUR HOME WORTH?
HOME IMPROVEMENT PROFESSIONALS
more on msn real estate