Myths debunked: Spring is not the best time to sell
Some real-estate advice has been repeated so often that we all think it's valid when it's not. The holidays are actually a good time to list.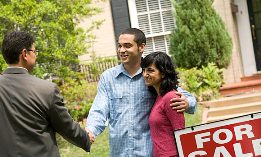 There are certain things that we all think we know about real estate, such as fresh-baked cookies help sell houses. Or maybe they don't.
Repeated enough times, a myth becomes part of many people's realities, and we begin acting as if these are all incontrovertible rules. Zillow recently looked at several things "everybody" knows about real estate and poked holes in a few myths.
Do you think spring is the best time to list your home for sale? I did, because I had heard it so many times. But, says Zillow, spring is not the best time to list your home for sale. The best time is November, December and January, which we have always thought was the worst time.
Post continues below
"It's a  supply-and-demand issue," Brendon DeSimone, a real-estate agent who appears on HGTV, wrote at the Zillow blog. "Most sellers assume buyers aren't seriously looking during this prolonged holiday season. And yet, many buyers are looking at properties in person and online right up until Christmas Eve. If the right home goes on the market in mid-December, a serious buyer — and there will be a lot of them — will take note."
And once the New Year starts, buyers who have resolved to buy a house will start looking. If your house is one of just a few on the market, it will get the first look. The idea of spring being the best time to sell grew out of families' desire to move before the new school year starts in September. But the majority of buyers today don't have children.
A buyers' myth DeSimone punctured is that you should always start with your lowest offer. How many times have you heard, "You can always raise your offer, but you can't lower it." But in today's market, where good homes for sale are scarce and draw multiple offers, you might want to start with your best offer or risk being shut out. "In this environment, constantly throwing in low offers because that's what your Uncle Bob advised you to do will likely lead to disappointment," DeSimone wrote.
The third myth is that a cash offer always trumps an offer with financing. If you're offering a higher price and you can demonstrate that your finances are strong and you will get the mortgage, a seller may choose your offer because it means he will end up with more cash at the end.
No strategy will overcome a too-high price, a bad location, difficulty in making appointments or a cat-pee smell. What you're looking for in studying which days are the best to list and why you shouldn't describe a home as "fantastic" is how to get an advantage over other, equivalent properties.
What other real-estate truisms need to be re-examined?

I sold my house the day before
Thanksgiving........​.People
are looking and President Obama has nothing to do with it.......Matter of fact the young lady who bought my home use the Obama home buying seminar for free and got 10,000 towards the purchase..So before you start telling lies......Read

What Female Sales Asso  decjded that the Holidays are Best to Sell?? What a Myth>>Who wants to move in the dead of Winter with a UHaul?? Biggest problem is to get a Mortgage. No Bank will go with a 50-60 term for small payments.  With rates so low, how much can a Seller charge for Interest if he finances?  6 or 8% .I think I would put up for a rent of $4000-per mo rather than sell.
Are you sure you want to delete this comment?
FIND YOUR DREAM HOME OR APARTMENT
msn real estate is social
WHAT'S YOUR HOME WORTH?
HOME IMPROVEMENT PROFESSIONALS
more on msn real estate