Trulia: Why we're not in a housing bubble
Homes are still undervalued in 91 of the top 100 metro areas, according to Trulia's analysis. Several factors signal a bubble is not imminent.
With the way home prices are rising in some areas, you can't help wondering if we are in another housing bubble.
Not so far, says Jed Kolko, the chief economist of the real-estate portal Trulia. For there to be a bubble, home prices have to rise beyond the homes' fundamental values.
According to his analysis, that is not happening, at least in 91 of the largest 100 U.S. metros. Nationwide, homes are undervalued by about 7%, he calculates.
Post continues below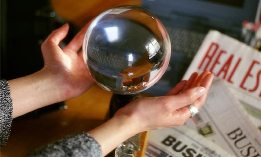 There are a few areas where Kolko sees homes as overvalued and flirting with bubble territory. Those areas are the California metros of Orange County, Los Angeles, San Jose and San Francisco; the Texas cities of Austin, San Antonio and Houston; Portland, Ore.; and Honolulu.
But, Kolko notes, even those areas are far less overvalued than they were during the boom. Orange County, for example, is 9% overvalued by his calculations, compared with 71% overvalued in the first quarter of 2006.
Other analysts agree that the current rise in housing prices is not a bubble. Those analysts include Rick Sharga, executive vice president with Carrington Mortgage Holdings. "This is not a 2005 market," he told attendees at a real-estate conference last month.
Kolko points out how difficult it is to predict a bubble, especially before it bursts. He writes:
Bubbles are notoriously difficult to predict and hard to confirm until after they've burst. It's impossible to be sure whether price gains are justified by fundamentals until, if and when a bubble bursts. San Francisco home prices, for instance, are the highest in the country; is that "irrational exuberance" by speculative homebuyers, or are those prices justified by strong job growth, high incomes, great weather and constraints on the local housing supply?
But, Kolko suggests, several factors make a new bubble unlikely any time soon. Those include an increasing number of homes for sale, declining investor interest and an expected increase in mortgage rates.
What do you think? Is there any danger of an imminent housing bubble?
FIND YOUR DREAM HOME OR APARTMENT
msn real estate is social
WHAT'S YOUR HOME WORTH?
HOME IMPROVEMENT PROFESSIONALS
more on msn real estate