U.S. flood-risk maps outdated
Some communities and insurance companies are making decisions based on maps created in the 1970s. Budget cuts have slowed the needed updates.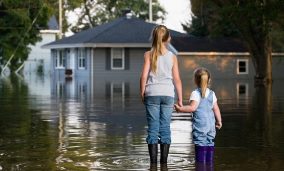 A key factor in determining whether you need flood insurance, and what you'll pay, is a map created by the Federal Emergency Management Agency. If FEMA determines you are in a flood-hazard zone, your lender will demand you buy flood insurance, and the map helps determine how much you'll pay.
But in every disastrous flood, people are surprised to see water in areas they didn't think were at risk. According to Pro Publica, a nonprofit investigative journalism website, that's partly because U.S. flood maps are not up-to-date.
Yet Congress has cut the budget for flood maps from $221 million in 2010 to $100 million this year. President Barack Obama's proposed budget calls for a further cut next year, to $84 million.
Post continues below
In some communities, the flood maps date back decades.
"It is disconcerting to have counties and areas where people still have maps from the 1970s," Suzanne Jiwani, a floodplain mapping engineer with Minnesota's Department of Natural Resources, told Pro Publica.
The Association of State Floodplain Managers estimates that FEMA would need $4.5 billion to $7.5 billion to create accurate flood maps for the nation. Keeping those maps updated would cost $116 million to $275 million a year, the group says.
But the alternative is even more expensive. The group notes that Hurricane Katrina in 2005 and superstorm Sandy in 2012 cost the federal government $200 billion. And that doesn't include the costs to homeowners, business owners and local and state governments.
Not everyone is happy to see new flood maps, but the experience of New Jersey after Sandy is instructive. Preliminary new flood maps released since the storm show that many buildings should be built at a higher elevation to minimize flood risk.
"A lot of the maps are so old, they have become unreliable," J. Robert Hunter, the former director of the federal flood insurance program and now the director of insurance at the Consumer Federation of America, told The New York Times. "It's not doing you a favor to give a cheap rate, and a year later, your house is gone. Consumers aren't helped by misleading maps."
FIND YOUR DREAM HOME OR APARTMENT
msn real estate is social
WHAT'S YOUR HOME WORTH?
HOME IMPROVEMENT PROFESSIONALS
more on msn real estate