Want a lighthouse? You can't beat the view, but ...
The U.S. government is offering the historic towers to preservation organizations. If no takers emerge, they are auctioned off to the public.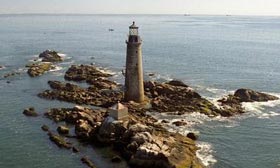 If you're having trouble finding a home to buy, the U.S. government may have a deal for you.
The National Park Service recently announced plans to get rid of seven lighthouses, and several of the 11 properties that were offered last year are up for public auction.
The new offerings for 2013 include five facilities in Michigan, plus one each in Connecticut and Wisconsin.
Post continues below
The historic buildings are first offered free to preservation organizations. If there are no takers, they are then auctioned off to the highest bidder by the General Services Administration.
Judging from this report by Curbed, none of the lighthouses currently up for bid is ready to become a home. All need extensive restoration.
Bidding opens June 10 for the Graves Island Light Station in Boston Harbor. The property includes 10 acres of rocky island, a 113-foot lighthouse, built in 1903, and another building on a separate island. The lighthouse keeper's living space was on the fourth and fifth levels of the tower. The government is asking for an opening bid of $25,000.
Living in an old lighthouse is unusual, but a number of such structures around the country have been adapted for living quarters.
The nation's oldest wooden lighthouse, the Poplar Point Lighthouse in Rhode Island, was sold by the government in 1894 for $3,944.67. Unlike many of the surplus lighthouses, it's on land you can reach by automobile.
With the living quarters greatly expanded, it's currently on the market for $4.975 million. Built in 1831, the original stone caretaker's cottage has been considerably expanded, from a 40-by-20-foot building to a 4,563-square-foot home with four bedrooms, 4.5 baths, a pool and a detached guest house, according to the listing. It's on 1.5 acres of land with a breathtaking ocean view. The price has been reduced considerably from the $9.9 million listing price in January 2010.
If a lighthouse isn't to your taste, the GSA also has a number of conventional houses on land for sale.
Are you sure you want to delete this comment?
FIND YOUR DREAM HOME OR APARTMENT
msn real estate is social
WHAT'S YOUR HOME WORTH?
HOME IMPROVEMENT PROFESSIONALS
more on msn real estate