When is a home just too small?
Micro-apartments are seen as a solution for people willing to sacrifice space for location. But is there a limit to how small a home can go and still be comfortable?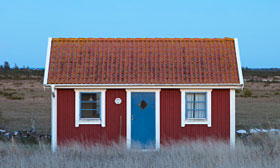 We've written a number of blog posts glorifying tiny homes. Their charm is often in the ingenuity of their design, with furniture that multitasks and creative storage options.
But as much as we admire these clever tiny homes, would you want to live in one?
"I think it's different strokes for different folks," Graham Hill told journalist Bridget Moriarity, who recently wrote a piece for Curbed about smaller living spaces. "If you're a 22-year-old coming to New York City, you may be out a ton and not have much of a budget, so maybe you want to rent a 200-square-foot place that's closer to the center instead of having a bunch of roommates or having to live far out and commute all the time."
Post continues below
Hill, the founder of Treehugger, recently published an op-ed piece in The New York Times about the joy of living with less stuff. But critics point out that he spent $365,000 to modify his 420-square-foot New York City apartment, for which he paid $287,000.
Many of the micro-apartment stories come from large, expensive cities: New York, San Francisco and even Providence, R.I., where enough residents are willing to trade space for a place in the heart of the city. Small-space proponents argue that the city around them is part of their living space. Plus, the new developments with small apartments also include some communal spaces, such as courtyards, movie screening rooms and terraces.
Writes Allison Arieff at The New York Times:
Small housing units can be well-designed, though their success is contingent on the success of the urban setting in which they exist. In other words, what's outside the door needs to be compelling enough to make up for what might otherwise be internalized inside a larger home.
But it's not only urban dwellers who are embracing the ethos of small spaces, at least in limited numbers. A family of four built a 168-square-foot house in Florida after they were hit hard by the recession. Two women in California built tiny dwellings to save money.
How well a tiny home will work depends a lot on your circumstances.
In recent years, I have downsized from a 2,000-square-foot, three-bedroom house with a garage and lots of closets to a two-bedroom house to a one-bedroom house and now to a one-room loft apartment. For a single person, one large room works fine. If you had two people who slept at different times, or a baby, it wouldn't work very well.
Marc Vlessing, a co-founder of Pocket Living in London, believes that there is a limit to how small a house or apartment can be and still be livable.
"I balk at anything below 300 square feet," Vlessing told Moriarty. "You don't want to become the new student dormers. This has to be a credible alternative to living in suburbia. If it just becomes too cramped, then I think people go, 'OK, it's terrible, but I'll do the commute.'"
What factors would compel you to live in a tiny space and how small would you be willing to go?
FIND YOUR DREAM HOME OR APARTMENT
msn real estate is social
WHAT'S YOUR HOME WORTH?
HOME IMPROVEMENT PROFESSIONALS
more on msn real estate