Will Gen Y-ers still prefer urban life as they age?
A new Urban Land Institute survey finds that generations have different preferences when it comes to desired community characteristics.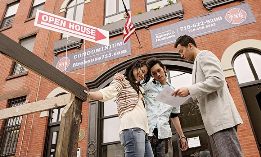 One of the great unanswered questions facing the housing market is whether Americans will make the same housing choices in the future as generations before them made.
Members of Generation Y, generally those age 18 to 34, so far prefer urban living and value walkability and access to public transit. But will they still find those factors important as they get older and have children?
In its latest survey, the Urban Land Institute attempted to determine what community features are important to various generations of Americans. The institute generally advocates urban living and mixed-use environment, and one of the goals of the survey was to find out which groups also favor those characteristics in a place to live.
Americans as a whole are somewhat contradictory in their responses. While 70% rank a neighborhood that is easily walkable as a preference, 72% want space between neighbors. The characteristic most desired, the survey found, was neighborhood safety (92%), followed by good schools (79%).
"On the whole, the survey suggests that demand will continue to rise for infill residential development that is less car-dependent, while demand could wane for isolated development in outlying suburbs," the institute wrote in a news release.
Here is how the report summarized the desires of four demographic groups (with a little commentary from me):
Generation Y (ages 18 to 34). This group shows the strongest desire for mixed-use communities, urban lifestyles and walkable communities. About half expect to move in the next five years.
Generation X (ages 35 to 47). These are mostly homeowners in single-family homes and don't care much about living in mixed-use communities or proximity to mass transit. That's the typical American pattern – have children, move to the suburbs. We don't know yet whether Gen Y will do the same as its members start families.
Baby boomers (ages 48 to 66). This group is a mix of its two younger cohorts. Many don't plan to move, but those who do want smaller houses with shorter commutes. They want to be near parks and amenities but far from neighbors, and they may have to make some choices about which factor is more important.
War babies (ages 67 to 82) and the Silent Generation (83 and older) aren't likely to move but, if they do, they like walkable neighborhoods and proximity to medical services, family, friends, shopping and entertainment.

I will give you my opinion as a 28 year old generation Y'er. I live in the country with 2 acers, a river at the edge of my property and have a good distance between my neighbors and me. I love it out here, its quiet, is only 4 minutes from town and 45 min from Seattle. My wife and I are renting it from her dad and we're working on getting the financing together so that we can buy it from him. While we don't plan on moving anytime soon, I doubt we will retire here.
Are you sure you want to delete this comment?
FIND YOUR DREAM HOME OR APARTMENT
msn real estate is social
WHAT'S YOUR HOME WORTH?
HOME IMPROVEMENT PROFESSIONALS
more on msn real estate