Zsa Zsa Gabor's mansion really for sale, at much lower price
Her husband had wanted $28 million, but the listing price of the Los Angeles estate — 'waiting for you to remodel it' — is $15 million.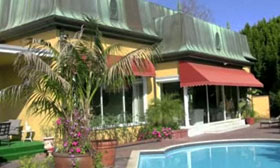 Back in January, Zsa Zsa Gabor's husband said the 94-year-old star wanted to sell her Bel-Air mansion and use the proceeds to pay for medical bills. The asking price for the 6,393-square-foot Los Angeles estate was $28 million.
This week, the property really did go on the market, listed by a real-estate agent who must have sat Frederic Prinz von Anhalt down for "the talk" about realistic pricing: The home is listed for $15 million.
The house, built in 1955, has four bedrooms and five baths on 1.5 acres. Like many homes owned by older people, it seems to be a bit of a fixer-upper.
"A terrific floor plan and exceptional character, this home is waiting for you to remodel it," the listing reads.
Post continues below
The Hollywood French Regency-style mansion has views of downtown Los Angeles and the Pacific Ocean, plus a pool.
"I just want to settle my wife's debts and keep her comfortable," von Anhalt told The Los Angeles Times in January, when he gave reporters a tour of the home. "The upkeep alone per month on the house is $35,000. It gives me a big headache, and I cannot afford to keep paying it."
Gabor is in poor health and bedridden after a stroke, liver and lung problems and the amputation of a leg.
She says she bought the home in the 1970s from Howard Hughes and that Elvis Presley once lived there.
But Los Angeles mortgage banker Barbara Yobs told the L.A. Weekly that her grandparents, John and Gladys Zurlo, built the house and sold it to Gabor in 1973, for $250,000.
Hughes did rent the place in the 1960s, she said, wearing a hole in a hallway carpet with his pacing. Elvis was never a tenant.
FIND YOUR DREAM HOME OR APARTMENT
msn real estate is social
WHAT'S YOUR HOME WORTH?
HOME IMPROVEMENT PROFESSIONALS
from our partners