Live like Tony Montana for $30,000 a month
Actually, life is probably much more tranquil for renters of this Santa Barbara, Calif., mansion than it was for the fictional drug kingpin in 'Scarface.'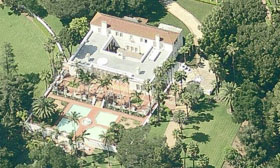 If you wanted to live like Al Pacino in "Scarface," you figure that you'd fly to Miami and rent an oceanfront spread, something like Al Capone's old place.
The film showcased the Miami of the early 1980s, as the city struggled to cope with an influx of 125,000 Cuban refugees in the Mariel boatlift and the unrelated "cocaine wars," in which drug kingpins fought violently for turf. It was not the city's finest hour, but the scenery was nice.
However, you'd look in vain to find the house that was home to Al Pacino's Tony Montana, because it's really in Santa Barbara, Calif. You can rent the estate for $30,000 a month.
Post continues below
It's hard to find two cities more different than Santa Barbara and Miami, other than the foliage and the nice climate. Santa Barbara is an affluent oceanfront city of about 89,000, with a small, cute downtown and a relaxed vibe.
Miami, a city of 408,000 in a metropolitan area of 2.5 million, is a lot rougher and significantly less upscale in spots. Montana's estate was in the tony Spanish-style suburb of Coral Gables, where you'd be hard-put to find a hilltop estate with ocean views -- or even a hill.
If you want to get away from winter, you could do worse than the "Scarface" mansion in Santa Barbara, used for exterior shots in the film – though it is considerably cooler there in January than it is in Miami.
The estate, on 10 secluded acres in the Montecito neighborhood above the city, was built in 1906 for J. Waldron Gillespie, a banker from New York. He hired renowned architect Bertram Goodhue to build the home, and the two began the project with a yearlong trip to study the buildings of Mediterranean Europe. The estate was the site for the wedding of Charlie Chaplin and Oona O'Neill in 1943.
The estate is known as El Fureidis (Little Paradise). The home has 9,816 square feet and includes four bedroom suites. It was modernized by its current owner, Russian businessman Sergey Grishin, who bought it for 2009 for $6.23 million, according to public records, though it was listed for $29.5 million for several years, after being listed in 2006 for $37.5 million. Grishin lives on the property next door.
The gardens may be even more remarkable than the house. According to the rental listing, the estate has what is "perhaps the rarest tree collection in North America." There is also a Persian water garden, which includes six terraced pools of cascading water. We suspect Tony Montana may not have appreciated those features as much as he should have.
FIND YOUR DREAM HOME OR APARTMENT
msn real estate is social
WHAT'S YOUR HOME WORTH?
HOME IMPROVEMENT PROFESSIONALS
from our partners
more on msn real estate