$234,300 will buy you the ultimate playhouse
Swings, slides, stage, bridges — what more could a kid want? In other playhouse news, grandma in Georgia can keep pink structure.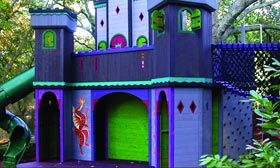 You perhaps are not in the market for a playhouse that costs more than I spent for my first, second, third — well, any house I have bought in the past 30 years (unless you want to count the renovations on that last one).
Then again, none of my houses had a theater stage, lower-level maze (or even a lower level), bridges, swings, slides or climbing bars. You get what you pay for.
The $234,300 Castle Dragon is the ultimate kids' custom fantasy structure – 790 square feet of redwood painted in bright colors.
Post continues below
We were alerted to this extreme playhouse by a Wall Street Journal slide show called "The Fully Loaded Mini Mansion," which showcased several fancy kids' playhouses.
If your budget can't accommodate the Castle Dragon, you can get a 244-square-foot Victorian with a wrap-around porch, media room and custom hardwood furniture for about $50,000.
The Castle Dragon was created by San Francisco builder Barbara Butler, who has been constructing custom playhouses, tree houses and forts for more than 25 years. Most cost considerably less than $234,300, installed.
She started out building custom decks but got into the playhouse business when a client asked for a custom structure for his kids. She has designed and built for a number of celebrity clients.
According to an article last year in The New York Times, the recession has not dimmed the demand for elaborate kids' playhouses. "Childhood is a precious and finite thing," Butler told The Times. "And a special playhouse is not the sort of thing you can put off until the economy gets better."
Speaking of playhouses: You might need to check with your homeowners association or your city before you construct one, especially if you plan to use unusual colors.
However, a homeowner in suburban Atlanta did finally get the right to keep her granddaughter's pink playhouse. Her homeowners association has dropped its suit objecting to the color.
FIND YOUR DREAM HOME OR APARTMENT
msn real estate is social
WHAT'S YOUR HOME WORTH?
HOME IMPROVEMENT PROFESSIONALS
from our partners
more on msn real estate