Listing of the Week: George Jones' Tennessee estate
The country-music star was trying to sell his 78-acre equestrian property outside Nashville for 2 years when he died. The price has been cut from $15 million to $8 million.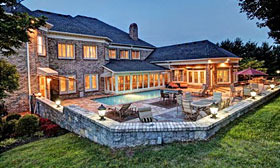 Country-music star George Jones' life was celebrated Thursday with a public funeral at the Grand Ole Opry House in Nashville, Tenn. Among those who spoke were former first lady Laura Bush, Tennessee Gov. Bill Haslam and a "who's who" of country-music legends.
The singer, known for such ballads as "He Stopped Loving Her Today," "Color of the Blues" and "The One I Loved Back Then," was in the middle of a national farewell tour when he died last week at 81.
His Franklin, Tenn., country estate remains for sale, offered at $8 million.
Post continues below
Jones and his wife, Nancy, first put the home outside Nashville on the market in March 2011 for $15 million. They tried splitting up the 78-acre parcel and selling it at auction last July, but didn't draw a price they deemed high enough.
The estate includes a 9,704-square-foot luxury home with four bedrooms and five bathrooms -- and a beauty salon -- two guest houses, a nine-stall stable, five outbuildings, a heated saltwater pool, two lakes, an outdoor kitchen with an entertainment area and two garages, one of which holds nine cars.
Many Nashville residents have visited the estate. Until 2010, the entertainer and his wife put on a lavish Christmas-light display for the public at their home.
You can see photos of the home here and a video here.
At $8 million, Jones' home is not the most expensive property listed in Franklin. That distinction goes to Bella Rosa, a 48-acre estate listed for $17.5 million.
msn real estate is social
FIND YOUR DREAM HOME OR APARTMENT
WHAT'S YOUR HOME WORTH?
HOME IMPROVEMENT PROFESSIONALS
from our partners