Home sales at highest level in 3 years
The national median home price is up 11.5% over last year. Plus, the number of homes for sale rose 9.6% from January to February.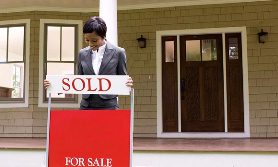 The number of existing homes sold in February reached the highest level since a tax credit spurred sales in November 2009. More important, the number of homes listed for sale rose 9.6% from January to February, boosting the scant inventory of available homes.
The median home price also rose, for the 12th straight month, to $173,600, according to the latest data from the National Association of Realtors. That's 11.5% above the median price of a year ago.
Post continues below
"Job growth in the improving economy and pent-up demand are causing both home sales and rental leasing to rise," Lawrence Yun, the NAR's chief economist, said in a news release. "Though home prices are rising much faster than rents, historically low mortgage rates are still making home purchases affordable."
He cited the lack of inventory, which is particularly acute in California, and restrictive credit as the two persistent factors that are holding back sales.
Nationwide, 1.94 million existing homes were for sale, 19.2% fewer than last February. At the current rate of sales, the inventory would last 4.7 months, less than the six months considered a balanced market.
The increase in the number of homes for sale indicates that sellers who had been holding off in hopes of getting a higher price may be starting to put their homes on the market. Rising prices are also cutting the number of underwater homeowners, which makes it possible for more people to sell their home without having to pay the bank.
In a separate report, the National Association of Home Builders declared that 274 of 361 metro areas were improving, based on a six-month analysis of unemployment, building permits and home prices.
"The housing market is on considerably more solid footing than it was at this time last year," NAHB chief economist David Crowe said in a news release. "While we expect this positive momentum to continue, it's important to understand that many markets are just beginning the recovery process, and that numerous issues -- from credit availability to the rising cost of building materials and emerging lot shortages -- are slowing the pace of that advancement."
Of the existing-home sales in February, 15% were foreclosures and 10% were short sales, for a total of 25% distressed sales. That's down from 34% in February 2012.
First-time buyers accounted for 30% of sales, down from 32% in February 2012.
Investors accounted for 22% of sales, compared with 23% in February 2012. A total of 32% of sales were all cash, up from 23% in February 2012.
Looking at sales and prices by region:
Northeast: Sales up 8.6% from a year ago, price up 7.6%.

Midwest: Sales up 12.9% from a year ago, price up 7.7%.

South: Sales up 14.9% from a year ago, price up 9.3%.

West: Sales up 1.7% from a year ago, price up 22.7%.

Well, the silver lining is at least homeowners who want to sell or need to cash out of their homes  for whatever reason are being given one more chance to do so and make some good money.  Once interest rates go up, prices will fall yet again, maybe even more dramatically than in 2008.  It's necessary in order to restore, especially for for first time buyers,  the American dream of home ownership.  If you're not selling right now, it's because you love your home and have no desire to sell.  When prices fall again, don't say you weren't given a second chance to downsize or get out of the market.

I have no idea how the Northeast can justify their housing prices. Housing is unreasonably overpriced.
Housing with an asking price of $300,000 plus either need to be completely re-done to bring them up to code or just to make them inhabitable. The majorities of the houses and properties are just not kept up and look like run down shacks.
Pricing is not justifiable by any means! Now sellers are delaying listing their houses in the hopes to get even more for their houses creating a supply and demand situation. Less supply of houses equates to increase in housing pricing. 
Are you sure you want to delete this comment?
FIND YOUR DREAM HOME OR APARTMENT
msn real estate is social
WHAT'S YOUR HOME WORTH?
HOME IMPROVEMENT PROFESSIONALS
from our partners
more on msn real estate