Behind the babble: An expansive one-bedroom?
Writers look at common phrases from real-estate listings and attempt to decipher what the agents really mean. Does anyone have a tub you can't soak in?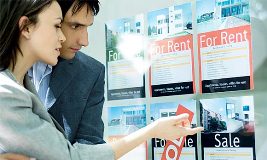 One of our favorite features in the family of Curbed blogs is the BrokerBabble feature: the decoding of what real-estate agents really mean by some of the words so common in real-estate listings.
What's BrokerBabble? Curbed writes: "The concept: Take a word or phrase that shows up in an unreasonable number of listings and decipher its true meaning." Just in case you're in doubt, the editors include photos of what the place really looks like, as opposed to what the babble implies.
The BrokerBabble Glossary section was started by Curbed New York's Jeremiah Budin and expanded to the other Curbed sites. Readers also send in tips.

Post continues below
Curbed L.A. did a post last year analyzing the most common adjectives in Coldwell Banker's View magazine, a supplement to the Los Angeles Times. The most common adjectives were private (this is Los Angeles), spacious, beautiful, large, charming, fabulous, stunning, gorgeous, lovely, exquisite, panoramic, wonderful, huge, amazing and perfect.
Curbed is not the only one to bemoan "broker babble" that would put Alice in Wonderland to shame. In a post complaining about some of the most common phrases, Malcolm Carter, a broker himself, wrote:
And I have to say that I'm baffled by the word "soaking" before "tub" as I frequently see in listings. Aside from the unrenovated bath of some pre-war maid's rooms, I cannot summon the image of bathtub in which I could not soak substantially more than clothing.
Here are a few examples of BrokerBabble from Curbed:
Jewel box

: This usually describes a small house or apartment with expensive materials and finishes. Writes Budin: "Sorry, Upper East Side co-op. Newly painted walls do not a jewel box make."

Expansive

: We'd think that expansive means large, but the word somehow seems to crop up in listings for small New York City apartments. We liked the "expansive" dressing room that was three times the size of a bathtub and the "expansive rich granite counter" big enough to accommodate four bar stools in a line. (It is New York City.)

Sprawling

: Apparently, there are quite a lot of "sprawling" one-bedroom apartments in New York City, though none of my friends has ever been able to find anything I would describe as larger than compact. Budin advises: "As a general rule, if you ever find yourself using the phrase 'sprawling one-bedroom' there's a pretty good chance you need to check yourself."
There are times a bit of broker babble can be effective and evocative.
I used to own a rental house that was a compact two bedrooms, with two tiny closets, in 950 square feet. Nothing about it was sprawling or expansive, though you could probably stretch and call it a jewel box if you overlooked the badly-in-need-of-ren​ovation kitchen. When I advertised it as "charming," prospective tenants usually rejected it too small. When I advertised it as a "dollhouse," those who didn't want small stayed away.
What's your favorite example of broker babble?
FIND YOUR DREAM HOME OR APARTMENT
msn real estate is social
WHAT'S YOUR HOME WORTH?
HOME IMPROVEMENT PROFESSIONALS
from our partners
more on msn real estate