Fresh-baked cookies don't sell houses
New research suggests that a complex scent, such as cookies baking, distracts homebuyers. A simpler scent, such as lemon, might be better.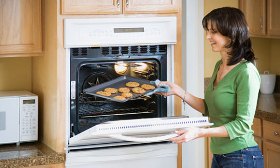 This is one of the most shocking real-estate stories we have read lately: Contrary to popular belief, the smell of fresh-baked cookies does NOT help to sell your home.
A simpler scent, such as lemon, basil or pine, would be preferable, researchers from Washington State University report. A complex scent, such as cookies, could be a distraction from the home itself.
"They are not there to process the smells," Eric Spangenberg, who has done years of research on the effect of smells on sales, told The Wall Street Journal. "They are there to process whether this is a place they want to live."
Post continues below
In their most recent study, he and his colleagues studied the effect of scent on 402 shoppers in a home decor store in Switzerland. They found that the shoppers bought 31.8% more when the stores used a simple orange scent than when the scent was a blend of orange, basil and green tea.
"Complex scents, even if they're pleasant, can be a distraction because some people subconsciously dedicate time and energy to figuring out what the aroma is," The WSJ explains, meaning that the would-be buyers are analyzing the cookie smell with the part of the brain that would normally be evaluating the merchandise, i.e., your house for sale.
The cookie-baking maxim has become so pervasive that it may be hard to get sellers to quit baking – though a few renegade agents have always questioned the advice. "Cleanliness is the best scent," Oregon broker Annette Sievert wrote at Active Rain.
Writing at Home Goes Strong, Leah Ingram said was skeptical but when her home was on the market she baked cookies because her real-estate agent insisted it would bring about a faster sale. She wrote:
What that meant was that I baked a lot of cookies before open houses and showings. And what I learned was this: While her choice of house smells turned out to be a personal favorite, buyers didn't like it. In fact, they didn't even want the cookies — that plate was always untouched after every showing or open house. And the folks that did eventually buy our house made no mention of the cookies.
What do you think: Does the smell of cookies give you a warm feeling about a place?
FIND YOUR DREAM HOME OR APARTMENT
msn real estate is social
WHAT'S YOUR HOME WORTH?
HOME IMPROVEMENT PROFESSIONALS
from our partners