Listing of the Week: 'Law & Order' townhouse
A historic Manhattan brownstone that appeared frequently on the TV series -- as did its owners -- is on the market for the first time in 125 years.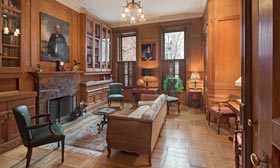 If you're a fan of "Law & Order," this Listing of the Week may look familiar.
This 5,526-square-foot townhouse on Manhattan's Upper West Side has made a number of appearances on the show, as have its owners, both New York actors.
The family of Peter Maloney and Kristin Griffith is only the second family to own the home, built in 1888 for Nicholas Walsh, a lawyer, according to The New York Times.
Post continues below
Maloney and Griffith have decided to move to a smaller place now that their two children are grown. The asking price is $8.75 million.
During the 30-plus years they have owned the home, the townhouse has made a number of appearances on "Law & Order," as have its owners – though neither Maloney nor Griffith ever appeared in an episode with their townhouse.
The couple bought the home in 1981, intrigued by its looks. It had been vacant for a decade and wasn't for sale but they tracked down Elizabeth F. Walsh, an heir of the original owner, and persuaded her to sell.
"She was very worried that we were real-estate people, and that we wanted to chop up the house and turn it into apartments," Maloney told The Times. The couple's plans to share the home with Griffith's parents, now deceased, helped seal the deal.
They paid $450,000 for the property and spent $2 million to renovate it.
The home retains many of its period touches, including lots of rich woodwork, an oak-paneled library with built-in bookcases, stained-glass windows, black walnut doors, a tin ceiling in the dining room, hand-painted pink and blue sinks for the man and woman of the house in the master dressing area and even the original icebox.
"The fact that this has retained its original layout and original grandeur is really amazing," Deborah Sabec, senior vice president of Town Residential, which has the listing, told CBS New York, which has video online.
The townhouse has six bedrooms and four and a half baths, plus front and back terraces. It has three stories, a partially finished basement and a light-filled penthouse with 18-foot ceilings, skylights and front and back terraces – an addition that would be impossible under current regulations.
Like the Walshes before them, Griffith and Maloney are hoping to find a buyer who will appreciate the historic home. "It will be nice to pass it on to someone who loves it," Griffith said in the CBS New York interview.

I also miss the original LAW & ORDER. I thought the newest cast was doing fine. Even if it was only going to be 13 shows a season, it would have been better than most of the TV shows out there today. There's no way it would ever come back, but wouldn't that be something. Bring on the Zombies.

I still miss the original Law and Order from which all the other shows came about.  It disappeared and no one seemed to notice.  Instead they bring on really terrible show, that are not even appealing to the target group of 18 - 49 years olds, who do not watch a heck of a lot of TV anyway unless it is the latest reality show. 
Are you sure you want to delete this comment?
FIND YOUR DREAM HOME OR APARTMENT
msn real estate is social
WHAT'S YOUR HOME WORTH?
HOME IMPROVEMENT PROFESSIONALS
from our partners