Popularity of big-city downtowns on the rise
More people are moving downtown in America's largest cities, according to a new census report. But the fastest rate of growth was in smaller cities.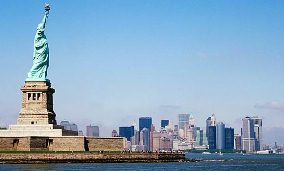 The downtowns of America's five most populous cities saw double-digit growth in the past 10 years, as the popularity of living downtown continued to grow.
According to a new report from the Census Bureau, Chicago saw the greatest increase in residents living within two miles of City Hall, with 48,000 new residents added in that area during the decade.
New York, Philadelphia, San Francisco and Washington, D.C., also saw large population increases in their downtown cores, as did many smaller cities.
Post continues below
"This is not just a change in people picking downtown to live," Robert Lang, who teaches urban affairs at the University of Nevada-Las Vegas, told USA Today. "It's a revolution in how we identified, built and financed downtown housing. ... A lot of bets were made, spurred in part by more creative financing."
But not all downtowns grew. New Orleans lost 35,000 downtown residents during the decade, likely as a result of Hurricane Katrina in 2005. Baltimore lost 10,000 downtown residents, as did two cities in Ohio, Dayton and Toledo.
The United States became slightly more urban during the decade; 83.7% percent of U.S. residents live in metropolitan areas with at least one population center of 50,000 or more. These areas take up only about one-quarter of the U.S. land area.
One-quarter of U.S. residents live in the nine largest cities, and 10% live in either the Los Angeles or the New York metropolitan area.
The population of the United States increased 9.7% between 2000 and 2010.
While the largest metro areas recorded the greatest number of new residents, the fastest rates of growth were in smaller areas. These were the fastest-growing metropolitan areas during the decade:
Palm Coast, Fla., from 49,832 residents to 95,696 residents, a growth rate of 92%.

St. George, Utah, from 90,354 residents to 138,115 residents, a growth rate of 42.9%.

Las Vegas-Paradise, Nev., from 1.37 million residents to 1.95 million, a growth rate of 41.8%.

Raleigh-Cary, N.C., from 797,071 residents to 1.13 million, a growth rate of 41.8%.

Cape Coral-Fort Myers, Fla., from 440,888 residents to 618,754 residents, a growth rate of 40.3%.
The metro areas showing the greatest percentage decline in residents were:
New

Orleans-Metairie-Ken​ner,

La., 11.3%.

Pine Bluff, Ark., 6.6%.

Youngstown-Warren-Bo​ardman,

Ohio-Pa., 6.2%.
Johnstown, Pa., 5.8%.

Steubenville-Weirton​,

Ohio-W.Va., 5.7%.
FIND YOUR DREAM HOME OR APARTMENT
msn real estate is social
WHAT'S YOUR HOME WORTH?
HOME IMPROVEMENT PROFESSIONALS
from our partners
more on msn real estate