Buying a home is 44% cheaper than renting -- maybe
Trulia's analysis finds that purchasing is cheaper than renting in all major U.S. cities -- if you can get the best interest rate, itemize deductions on your tax return and plan to stay at least 7 years.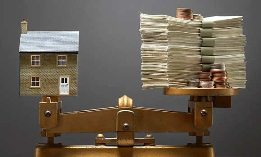 It's the perennial question: Should I buy or rent?
If you don't have good credit and a secure job, you may not have a choice, because you may not be able to get a mortgage. But those who do have a choice are giving a lot more thought to whether to buy, which once seemed a no-brainer.
According to a new analysis by the real-estate portal Trulia, buying is 44% cheaper than renting, even in large, expensive metro areas such as New York and San Francisco. Rising home prices haven't changed the equation much. Last year, buying was 46% cheaper than renting.
Post continues below
All things being equal, does that mean you should buy?
We'll give that a definite maybe -- because all things are never equal.
In doing its analysis, Trulia made certain assumptions: You are planning to keep the house at least seven years, you put 20% down, you got a 30-year mortgage at an interest rate of 3.5%, you were in the 25% tax bracket and you itemized deductions. If your situation is different, YMMV – your mileage may vary, and buying may not be the deal it appears to be.
If you want to see what happens with higher mortgage rates, a different tax scenario and/or a different amount of time in the home, Trulia has an interactive map.
As with every real-estate story, the other major factor is where you live.
If you live in San Francisco, for example, buying is only 19% cheaper than renting. Change one of the assumptions, and you may find renting a better deal. In contrast, buying is 70% cheaper in Detroit, and it may be the better deal even if you have to pay a higher interest rate, don't itemize your taxes and stay fewer than seven years.
The other cities where the line between buying and renting is smaller: Honolulu; San Jose, Calif.; New York, including the New Jersey suburbs; Albany, N.Y.; Orange County, Calif.; San Diego; Los Angeles; Long Island, N.Y.; and Ventura County, Calif., in that order.
The cities where buying is at least 58% cheaper than renting, after Detroit, are Dayton, Ohio; Gary, Ind.; Cleveland; Warren-Troy-Farmingt​on Hills, Mich.; Toledo, Ohio; Memphis, Tenn.; Kansas City, Mo.-Kan.; Birmingham, Ala.; and Indianapolis.
Zillow, another real-estate portal, sliced and diced its data another way, coming up with the 10 largest cities where it takes the longest to break even if you buy rather than rent. Using its methodology, the cities where it would take the longest to break even are New York, Seattle and Boston. All were under the seven-year point used in the Trulia analysis.
Should you rent or should you buy? You're going to have to do your own personal math before you decide. 
FIND YOUR DREAM HOME OR APARTMENT
msn real estate is social
WHAT'S YOUR HOME WORTH?
HOME IMPROVEMENT PROFESSIONALS
from our partners
more on msn real estate