Single-family housing starts back to 2008 level
Rise in construction, building permits indicate that housing will continue to contribute to the economic recovery this year. But 'normal' is still a long way away.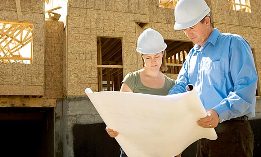 Builders began construction in February on the largest number of new single-family homes in almost five years, another sign that the housing industry is making strides.
Despite builders' struggles with tight credit, a shortage of lots and other woes, construction began on 27.7% more homes than in February 2012, and builders took out permits for 33.8% more homes than they did a year ago.
New single-family housing starts were up 31.5% over last February, the highest level since June 2008, and single-family permits were up 25.5%, according to the latest data from the Census Bureau and the Department of Housing and Urban Development.
Post continues below
"Today's report indicates that, despite some bumps in the road, overall housing production continues on the solid upward trend that we saw throughout 2012," David Crowe, chief economist for the National Association of Home Builders, said in a news release. "Moreover, further gains in permit issuance are a positive sign that home construction will continue to drive economic and job growth in the coming months, albeit at a slower pace than would be possible without certain limiting factors."
For the first time since 2005, homebuilding added to economic growth in 2012, Reuters reported, and it is expected to play a greater role this year.
"Homebuilding continues to recover and add to the recovery," Gus Faucher, an economist at PNC Financial Services, told Reuters. "The rise in permits suggests we will have a solid spring."
Builders have yet to vote that the situation is cause for great optimism, with the level of builder confidence declining last month. While the numbers are a great improvement over last year, they are far from what's considered normal.
Holding back full recovery, builders say, are tight credit, low appraisals, rising material costs and a shortage of lots and workers in some areas.
"Demand for new homes and apartments is definitely rising as the spring buying season approaches and more young people move out on their own," Rick Judson, chairman of the NAHB and a homebuilder from Charlotte, N.C., said in a news release. "Builders are responding to this improved demand by putting more crews back to work and pulling more permits for future construction, though this positive activity is being constrained  by continuing issues with appraisals and credit availability for both builders and buyers, and also by newly arising challenges such as lot shortages and increased costs for labor and materials."
Are you sure you want to delete this comment?
FIND YOUR DREAM HOME OR APARTMENT
msn real estate is social
WHAT'S YOUR HOME WORTH?
HOME IMPROVEMENT PROFESSIONALS
from our partners
more on msn real estate