Are more homeowners ready to sell?
The latest Realtor.com data found an increase in the number of homes for sale between February and March. Is it a trend or a blip?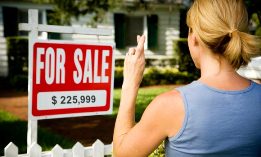 Have home prices risen enough that sellers may be edging into the market?
The latest data from Realtor.com found that the number of homes for sale increased 2.36% from February to March. While that doesn't indicate a stampede of sellers, it may be a sign that at least sellers are ready to quit sitting on their hands.
In Portland, Ore., Micki Swenson tried to sell her house three years ago and got no takers. She's decided that she's ready to move on with her life and put the home back up for sale last month, at a lower price.
Post continues below
"There's a lot of people who were underwater who are now not underwater," Portland real-estate broker said Nick Krautter told The Oregonian. "We've got a lot of clients who have been waiting to sell, sometimes for years. The price moved up enough they're able to make the move they want to make."
That hasn't led to a large increase in homes listed for sale, agents told The Oregonian, because fewer distressed properties -- foreclosures and short sales -- are coming to market. Still, they are seeing more interest from "regular sellers."
Inventory remains tight in much of the country, down 15.22% from this time last year, according to the Realtor.com data. But those numbers vary around the country.
Inventory of homes for sale has fallen drastically in California, bringing back bidding wars. But from February to March, the number of homes for sale rose 13.68% in San Francisco, 11.47% in San Jose, 7.27% in Oakland and 6.85% in Sacramento, all cities where the number of homes for sale has declined significantly. None of the other markets in the Realtor.com data showed a double-digit month-over-month increase in homes for sale.
It's too early to tell whether the inventory crunch is really easing, since it's traditional for more homes to go on the market as spring approaches. We'll have to wait a few more months to find out if prices have risen enough to persuade more homeowners it's time to sell.
Of the 146 cities tracked, only 36 showed a year-over-year decrease in list prices and, of those, only six saw list prices decline more than 5%. Those cities were Peoria-Pekin, Ill., down 10.72%; Columbia, Mo., down 8.57%; Springfield, Ill., down 7.69%; Dayton-Springfield, Ohio, down 7.32%; Akron, Ohio, down 6.08%; and Roanoke, Va., down 5.08%.
The median price was up 0.05% for the year, to $190,000.
FIND YOUR DREAM HOME OR APARTMENT
msn real estate is social
WHAT'S YOUR HOME WORTH?
HOME IMPROVEMENT PROFESSIONALS
from our partners
more on msn real estate