What's the best day to list your home for sale?
One study says homes listed on Friday sell for closest to asking price, though others suggest Thursday is better. Second choice? Tuesday.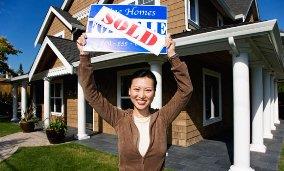 If you're getting ready to sell your home, your real-estate agent should have listed it in the multiple-listing service on Friday.
If he missed that deadline, you may want to wait until next week. A study by Redfin found that Friday is the best day to list a home for sale.
"You get four times the traffic on the day of debut than any other time of the week, and you only get one chance," Glenn Kelman, president and CEO of Redfin, told The Wall Street Journal. "Soon, you're yesterday's news."
Post continues below
Homes listed on Friday sold for 99.1% of asking price in the Redfin study, which covered 500,000 homes sold in 2012 in the 16 markets the company covers. That compares with houses listed on Sunday, the worst day, which sold for 98.4% of asking price.
Listing a house on Friday makes sense. Saturdays and Sundays are prime days for real-estate agents to show homes, and they make many of those appointments on Fridays. Obviously, the newest listings will be the most appealing.
Some agents, including Thomas Weddingfeld of Arizona, suggested that Thursday would be better, and the difference between the sale prices of homes listed on Fridays and those listed on Thursdays is statistically insignificant in the latest Redfin survey. Responding to a story in Realtor Magazine on last year's study, Weddingfeld says:
"I agree that Friday is a good day to list, but if it goes in the computer too late in the day, then there is a good chance many agents have already put together their tours and yours will be missed by the Friday/Saturday lookers.

"I usually try to get my homes in the MLS by Thursday noon to get them on as many Realtor tour lists as possible for the upcoming weekend."
According to Redfin, the next best day to list a home is Tuesday, perhaps because many agent caravans are on Wednesdays.
Writing at Time, Mark di Vincenzo suggests Tuesday is actually the best time to make an offer, because by then the seller may be worried that he won't get an offer from any of the weekend lookers. He favors Thursday as the best day to list. He writes:
This is more true during a sellers market, but if you list your house for sale on a Thursday, it will be available right away for weekend showings and by Saturday — the most important day of the real-estate week — your house will have shown only two days. That's important because the fewer days on market, the better chance the home will attract a full-price offer. Even if your house doesn't sell by the next Saturday, it will still show only nine days on market, benefiting from the psychological advantage of a single-digit number.
Of course, all this depends on a variety of factors, including the balance between buyers and sellers. In many California cities, where buyers outnumber sellers, you're likely to sell quickly no matter when you list.
FIND YOUR DREAM HOME OR APARTMENT
msn real estate is social
WHAT'S YOUR HOME WORTH?
HOME IMPROVEMENT PROFESSIONALS
from our partners
more on msn real estate