Demand rises for storm shelters, safe rooms
After the devastating tornado in Oklahoma, more residents of Tornado Alley want structures to help keep them safe.
It's human nature, responding to Mother Nature.
A natural disaster wreaks havoc on an area, and people respond by ordering up safe rooms, storm shelters, dunes, new windows – something they hope will save them from the next disaster.
In the wake of the devastating tornados that hit Oklahoma last week, customers are ordering more storm cellars and safe rooms, just as they did after the tornado that killed 161 people in Joplin, Mo., in 2011.
Post continues below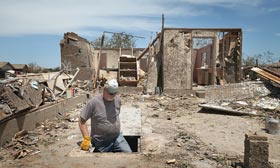 "People are saying, 'Sign me up — I don't care what it costs,'" Debbie Schaefer of Ground Zero Shelters in Oklahoma told CNBC. She said the flood of traffic had shut down the company's website twice, and the employees were struggling to keep up with all the email.
Atlas Safe Rooms, which opened in Joplin, Mo., in April 2012, makes above-ground safe rooms. Last year, it sold 142. The company has received about 50 orders in the past week, its CEO told CNBC.
Storm shelters and safe rooms can be underground or above-ground, and the price can range from $3,000 for a simple shelter to tens of thousands for larger, more elaborate shelters.
Officials in Tornado Alley have long refused to mandate basements, storm cellars, safe rooms or any other protection, arguing that their residents don't want government to tell them what to do and that requiring homes to be hardened against storms is too expensive. Even the cost of a safe room, which would add $3,000 to $4,000 to the cost of a home, is too much to require, they argue.
However, the Federal Emergency Management Agency provides grants to reimburse homeowners in some communities for half the cost of building a safe room, up to $3,000. FEMA also has a downloadable booklet, "Taking Shelter From the Storm," about safe rooms and storm shelters.

Basements are not practical in many areas of Tornado Alley (especially Dixie Alley). They build homes on stilts in many areas of Mississippi because of these issues.
The technology does exist (now) to build a basement in many parts of Oklahoma--it is prohibitively expensive. We aren't talking $3K, we are talking tens of thousands. Given that a single family home in Oklahoma costs about $60-75K . . . yeah, that's a lot.
A $3K shelter is a hole in the ground, four feet tall, four feet wide, and six feet long. about the size of two coffins. Do you want to go sit in a hole like that every time there is a storm warning (we are talking about two to three times a week for several hours for the months of April, May, and June). I do happen to believe that new construction should have at least one "safe room" as the technology (which is quite recent, by the way) is no longer prohibitively expensive. But, a "safe room" isn't going to be a big help in an EF5.
Any addition that is going to add 10% to the cost of a house (and that's what we're talking about) is going to be resisted. You can talk all you want about how houses in the northeast have storm protection and houses in California have earthquake protection--yes, they do have these things. And poor people cannot afford them. The poor people wind up renting older hovels that were not built to that kind of a code.
The average family income in Oklahoma is $35K (that's FAMILY income, not individual income). You want everyone to retrofit their homes for a family-sized shelter which will cost, at the very least, $5K. Do you really think that this is practical?  Seriously? Given that 99% of people in the OKC area were unaffected by the recent tornadoes, everyone has to bankrupt themselves for this sort of thing? Really?
If it makes you feel any better, most new homes that are being built already have one of the closets made into a safe room--but this is voluntary. There, there, now. Feel better?
Are you sure you want to delete this comment?
FIND YOUR DREAM HOME OR APARTMENT
msn real estate is social
WHAT'S YOUR HOME WORTH?
HOME IMPROVEMENT PROFESSIONALS
from our partners