Shipping-container home goes vertical in NYC
An architect and a contractor overcame regulatory obstacles to build New York City's first shipping-container home in Brooklyn.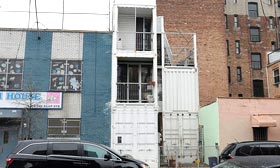 We've read a number of stories about shipping containers turned into dwellings. But in New York City?
David Boyle and Michele Bertomen spent four years creating a home from shipping containers on a 20-by-40-foot lot in Brooklyn, building what is believed to be the first shipping-container home in the city. They finally moved in last month.
Boyle is a contractor and Bertomen is an architecture professor. They initially planned to design and build a traditional house on the site, but after the initial estimate came in at more than $500,000, they were discouraged.
Post continues below
"We were just sitting around one night, bottle of wine, just feeling like we couldn't do it," Boyle told DNAinfo. "And then just, 'How about shipping containers?' came up. So Michele just sat down and did the calculations, in the terms of the size, fire ratings, how you can stack them up. … And she said it would work."
The couple bought six shipping containers for $1,500 each, stacking them to create a three-story house with a garage and a couple of decks, including one on the roof.
It took only about three hours to stack the containers and create the structure. But after Curbed wrote about the home in 2010, the city shut down the project, saying the yard wasn't big enough, among other issues. It took the couple eight months of back and forth with city officials, and the intervention of a former Brooklyn borough commissioner, to get the project back on track.
In the end, the couple spent about $400,000 to create their 1,600-square-foot New York City townhouse. They estimate the back-and-forth with the city added about $100,000 to the cost, and it would have been a lot more if they had had to hire an architect to keep redrawing plans.
You can see pictures of the result at DNAinfo and at Inhabitat. Note the kitchen implements stuck to the metal walls with magnets.
I COULD SEE  THESE SHIPPING  BOXES AS  LOW INCOME HOMES FOR THE POOR, BUT NOT
$400,000 DOLLARS, MY $25,000 MOBILE  HOMES HAS MORE ROOM THAT THIS BOX.
IF THESE SHIPPING BOXES SELL FOR $1500, THEN A PERSON WITH SOME WOODWORKING
SKILLS SHOULD BE ABLE TO MAKE A NICE HOME  FOR ABOUT  $3,000.....YES THESE SHIPPING
CONTAINERS COULD HELP--BUT ONLY IF THEY ARE CHEEP..GYY
Are you sure you want to delete this comment?
FIND YOUR DREAM HOME OR APARTMENT
msn real estate is social
WHAT'S YOUR HOME WORTH?
HOME IMPROVEMENT PROFESSIONALS
from our partners
more on msn real estate