Report: Lenders wrongfully foreclosed on over 700 service members
A review of foreclosure cases also turns up 20 homeowners who lost their home despite never missing a payment.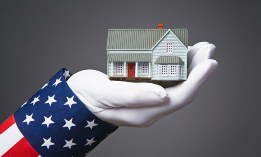 A review of thousands of foreclosure cases has found that major lenders wrongfully foreclosed on more than 700 members of the U.S. military, as well at least 20 homeowners who had never missed a payment.
The wrongful foreclosures were discovered in a review required by federal officials after a more comprehensive foreclosure review process was called off, DealBook reports.
"It's absolutely devastating to be 7,000 miles from your home fighting for this country and get a message that your family is being evicted," Col. John S. Odom Jr., who represents military members in foreclosure cases, told DealBook. "We have been sounding the alarms that the banks are illegally evicting the very men and women who are out there fighting for this country. This is a devastating confirmation of that."
Post continues below
A $25 billion settlement reached among the big lenders, the state attorneys general and federal regulators last year included a provision that anyone whose home had been in the foreclosure process with one of 14 lenders between 2009 and 2010 could apply to have the case reviewed. Those found to be the victims of bank misconduct would receive cash payouts.
But just weeks into the review process, which had been widely criticized, it was stopped. At the time, federal regulators said serious mistakes had been found in only 6.5% of the cases. The subsequent reviews found significantly higher rates of error, The Wall Street Journal reported. That includes the 700 members of the military who were the victim of improper foreclosures.
The Servicemembers Civil Relief Act bars lenders from foreclosing without a court order on "active-duty military personnel who had a mortgage obligation prior to enlistment or prior to being ordered to active duty."
Three lenders – Bank of America, Saxon Mortgage Services and JPMorgan Chase – have previously agreed to compensate about 200 members of the military who were the victims of improper foreclosures, in addition to paying about 6,000 who were overcharged on their mortgages.
The articles in DealBook and The Wall Street Journal were based on reports from insiders who had seen the data, and we don't know yet what else regulators found. We may never know. That has been one criticism of the decision to halt the reviews, that the public will never know what the scope of lender error was in the foreclosure crisis.
FIND YOUR DREAM HOME OR APARTMENT
msn real estate is social
WHAT'S YOUR HOME WORTH?
HOME IMPROVEMENT PROFESSIONALS
more on msn real estate