Good insurance news: Northeast wasn't hit by a hurricane
The declaration that Sandy was a tropical storm means many residents of the Northeast will pay lower deductibles on insurance claims.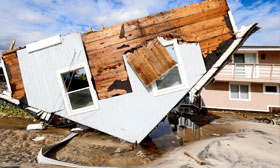 Residents of New York, New Jersey, Pennsylvania, Connecticut and Maryland may be surprised to find out they were not hit by a hurricane just before Halloween.
Sandy was a "post-tropical cyclone," with sustained winds of less than 74 mph, when it came ashore Oct. 29. The distinction is important because it means that people who suffered storm damage to their home will pay the regular deductible for their insurance claims, not the higher hurricane deductible.
Most homeowner insurance policies set a deductible for regular losses at a set amount, usually $500 or $1,000. Many policies in coastal states set a deductible that is a percentage of the home's value as the deductible for claims stemming from a hurricane.
Post continues below
So if your hurricane deductible is 5% and your home is worth $500,000 -- not unusual in the hard-hit areas -- you could find yourself responsible for paying the first $25,000 for repairs.
While Sandy was a hurricane for most of its trip up the East Coast, it had lost hurricane strength by the time it hit the Northeast. (The distinction doesn't make any difference for North Carolina, where the higher deductibles are triggered by "named storms.")
The declaration of non-hurricane status was made by governors or other officials in the affected states after the National Weather Service ruled that Sandy was not a hurricane when it came ashore.
However, the distinction may not be quite as clear-cut for all homeowners. Some homeowners have a separate wind deductible as opposed to a hurricane deductible. Each state has its own rules. Plus, each insurance policy has its own fine print.
The Insurance Information Institute has answers to some questions about storm coverage. U.S. News & World Report also has some guidelines if you want to prepare now for future damage.
One tricky insurance distinction is going to be a lot more difficult to parse: Was damage caused by wind and rain or by flooding? Damage caused by wind and rain is covered by homeowner or windstorm policies. But to be covered for flooding, homeowners need a separate flood insurance policy. Homeowners who suffered damage from both wind and flooding may find themselves in arguments with their insurance company or in court.
FIND YOUR DREAM HOME OR APARTMENT
msn real estate is social
WHAT'S YOUR HOME WORTH?
HOME IMPROVEMENT PROFESSIONALS
more on msn real estate