Why you can't get a mortgage
Standards are higher this year than last. Lenders are requiring credit scores too high for nearly 80% of the population, as well as hefty down payments.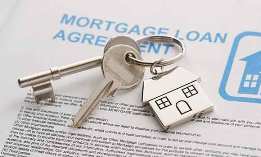 Nearly every time we get a new set of real-estate statistics from homebuilders or the real-estate industry, the news release includes a reminder that "tight credit" is holding back sales.
Just how tight is credit? According to syndicated columnist Kenneth Harney, not only is it harder to get a mortgage to buy a home or refinance than it was in 2006, but it's also harder than it was last year.
Post continues below
Only 20% of consumers have credit scores as high as the average score of borrowers whose loans were backed by Fannie Mae and Freddie Mac in August, Harney reports. That score was 763 for home purchasers, one point higher than last year, and 769 for refinancers, six points higher than August 2011. The average FICO (Fair Isaac) score on all loans closed in August was 750, nine points higher than last year.
Harney concludes: "To get a mortgage, you'll generally need high scores, big down payments — except for FHA, which accepts 3.5 percent down — plenty of time and reams of documentation."
Among the other examples Harney quoted (using August 2012 figures for Fannie-Freddie loans) of today's "tight credit":
The average down payment for a home was 21%.
Those who refinanced had an average of 30% equity in their homes.
Homebuyers ended up with a debt-to-income ratio of only 33%, including the new mortgage.
The average time to process a new mortgage application was 49 days, nine days more than last year. Refinancing took an average of 51 days, 14 days more than last year.
By the way, this has nothing to do with the Qualified Residential Mortgage standards mentioned by GOP presidential candidate Mitt Romney in last week's debate. Those standards not only are not yet in effect, but they also have not yet been determined.
One reason banks are demanding so much documentation is that they fear being forced to buy back mortgages that Fannie and Freddie said were inappropriately given in the past, according to an article in The Wall Street Journal.
One homeowner quoted by The WSJ had her home purchase closing delayed after her credit score fell 100 points over an unpaid $3 charge to Amazon – which she didn't realize had ever been made.
Have lenders gone too far? Or is today's current credit climate appropriate?
FIND YOUR DREAM HOME OR APARTMENT
msn real estate is social
WHAT'S YOUR HOME WORTH?
HOME IMPROVEMENT PROFESSIONALS
more on msn real estate