Remember the looming shadow inventory? Never mind
The number of homes in the foreclosure pipeline has dropped, making it less likely that a wave of foreclosed homes for sale will swamp the recovery.
Remember that boogeyman known as the shadow inventory that was threatening to drag us all back into recession?
The Wall Street Journal "Developments" blog has looked under the bed and declared that the monster is not so scary after all.
"The concept of a huge shadow inventory is preposterous," Christopher Thornberg, a housing economist with Beacon Economics, told The WSJ. "The number of mortgages in distress is way down from one year ago. It's clear there are fewer distressed properties out there."
Post continues below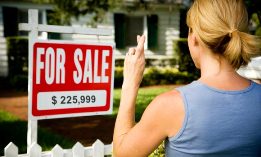 The exact size of the shadow inventory — homes that will eventually go into foreclosure and be offered for sale — is unknown. When we did a post last November, estimates ranged from 1.6 million to 15.3 million, quite a range. Estimates still vary, but analysts concur that the number has dropped.
The WSJ lists several reasons why the shadow inventory is not the threat it was once thought to be:
The picture

varies dramatically

in different areas. Some cities and neighborhoods have many foreclosed homes still to hit the market, and others do not.

Demand for homes, particularly lower-priced homes that investors can use as rentals, is up.

The

rate of vacant homes

, both for rent and for sale, is at its lowest level in years. That's partly because the construction of new homes is at its lowest level in decades.
Analysts in two areas of the country hardest-hit by the housing bust, Phoenix and southwestern Florida, said recently they see no signs of a looming shadow inventory that will drag down prices.
The Arizona Republic quoted Mike Orr, a real-estate analyst at Arizona State University's W.P. Carey School of Business: "There is still no sign of any significant new supply of homes coming onto the market, and those who anticipate a flood of bank-owned 'shadow inventory' are likely to be very disappointed."
The "Inside Real Estate" blog of the Sarasota Herald-Tribune heard similar sentiments from Charryl Youman, an agent with Prudential Florida Realty in Venice. "It's still pretty dry in Sarasota County," Youman said. "Maybe that's because banks are clearing out inventory through short sales and taking care of the inventory before it reaches the shadows."
About Teresa Mears
Teresa Mears is a veteran journalist who has been interested in houses since her father took her to tax auctions to carry the cash at age 10. A former editor of The Miami Herald's Home & Design section, she lives in South Florida where, in addition to writing about real estate, she publishes Miami on the Cheap to help her neighbors adjust to the loss of 60% of their property value.
FIND YOUR DREAM HOME OR APARTMENT
msn real estate is social
WHAT'S YOUR HOME WORTH?
HOME IMPROVEMENT PROFESSIONALS
from our partners