1,099-page rule seeks to simplify mortgage forms
The Consumer Financial Protection Bureau has proposed new disclosures to be given to borrowers after they apply for loans and three days before closing.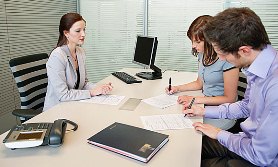 The Consumer Financial Protection Bureau has come up with new mortgage-disclosure forms and hopes they will provide consumers with better information before they take out a home loan.
But the challenge of making these complex issues simple is reflected in the size of the proposed rule: It's 1,099 pages.
"When making what is likely the biggest purchase of their life, consumers should be looking at paperwork that clearly lays out the terms of the deal," said Richard Cordray, CFPB director, in a news release. "Our proposed redesign of the federal mortgage forms provides much-needed transparency in the mortgage market and gives consumers greater power over the exciting and daunting process of buying a home."
Post continues below
One of the forms would go to borrowers within three business days after they apply for a loan. It would replace two forms mandated by different laws and that consumer advocates say are confusing.
The second form would go to consumers three business days before closing. This would replace two documents, the HUD-1 Settlement Statement and a required truth-in-lending disclosure, that are usually among a big stack of documents presented to homebuyers at closing. The size of this stack can make it difficult to object to charges or correct errors.
You can compare the proposed forms with the old ones here.
In general, consumer advocates praised the new forms, while industry officials raised some questions.
The bureau is taking comments until November on the proposed rule (September for some portions) before issuing final regulations. The bureau is also proposing a new rule for disclosure on high-cost mortgages.
The New York Times "Bucks Blog" noted a report from Kleimann Communication Group, which helped the bureau design the forms, about the difficulty of providing "plain and simple" disclosures to consumers with widely differing levels of education about the homebuying process. Kleimann wrote:
Nothing is plain or simple about the consumers who will use these disclosures. In truth, consumers, like all of us, are widely different, frustratingly indifferent to some information, naïvely trusting at times, frequently unaware of risks and often willing to ignore anything that seems overly complex.
What do you think about the new forms? Are they clear enough?
About Teresa Mears
Teresa Mears is a veteran journalist who has been interested in houses since her father took her to tax auctions to carry the cash at age 10. A former editor of The Miami Herald's Home & Design section, she lives in South Florida where, in addition to writing about real estate, she publishes Miami on the Cheap to help her neighbors adjust to the loss of 60% of their property value.
FIND YOUR DREAM HOME OR APARTMENT
msn real estate is social
WHAT'S YOUR HOME WORTH?
HOME IMPROVEMENT PROFESSIONALS
from our partners