Foreclosure consultant fees under fire
'Independent' consultants charged up to $630 per hour to review loan files for bank errors. But some say they were told not to find any.
At least one member of Congress is seeking an investigation of the consultants who received more than $1 billion in fees in a failed foreclosure-review program that was scrapped this month.
No one knows exactly how many loans were reviewed by the consultants at fees of up to $630 per hour. But the process was deemed to be so flawed that it was ended just days after the deadline for homeowners to apply.
"It was doomed from the beginning," Sheila Bair, the former chairwoman of the Federal Deposit Insurance Corp., told The Huffington Post. Bair had criticized the plan from the beginning. "It was designed to generate fees for consultants, not to help homeowners."
Post continues below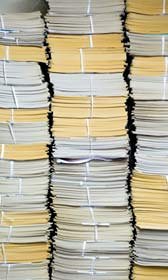 The plan was to have "independent" consultants review the cases of homeowners who had been in foreclosure during 2009 and 2010 to determine whether lenders had made mistakes. Homeowners who had suffered wrong could receive payments of up to $125,000. While 3.8 million homeowners were eligible to have their cases reviewed, fewer than 500,000 had applied by the Dec. 31, 2012, deadline. Most of those wasted their time filling out the application.
The new program will not attempt to pinpoint bank wrongdoing. Instead, the banks themselves will spread a total of $3.5 billion among the 3.8 million borrowers whose homes were in foreclosure during that time. Payouts could range from $250 to $125,000. It's unknown how payments to individual borrowers will be determined.
Rep. Carolyn Maloney, D-N.Y., is asking federal regulars for information on how the consultants were hired and the fees they were paid.
The Times and The Huffington Post both interviewed people involved with the reviews, who cited numerous problems with the process. Plus, the independence of the reviewers was compromised by the fact that they were chosen and overseen by the lenders they were reviewing. The consultants looking at Bank of America loans say they were discouraged from reporting bank errors.
"We knew what we were looking at," one employee told The Huff Post. "But we were told under threat of losing our jobs to not report what we saw."
The Huffington Post wrote:
But inside observers who shared their experience with The Huffington Post and other regulatory experts familiar with the process said that the decision to scrap the reviews was also a tacit admission that the program, which had cost billions of dollars and one year of intense work, was too broken to save. Had the reviews continued, insiders note, they would have produced results compromised by systemic mistakes and errors made along the way by the contract employees at banks and at the auditors.
FIND YOUR DREAM HOME OR APARTMENT
msn real estate is social
WHAT'S YOUR HOME WORTH?
HOME IMPROVEMENT PROFESSIONALS
more on msn real estate