More homeowners mortgage-free than underwater
Nearly 30% of U.S. homeowners own their home free and clear, compared with 20% who are underwater. West Virginia has the highest percentage of free-and-clear owners.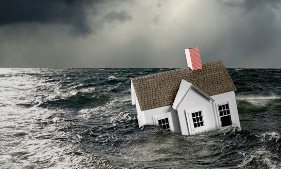 More homeowners own their home outright than are underwater on their mortgage, according to new Zillow data.
Looking at data from the credit-scoring agency TransUnion, the real-estate portal determined that 20.6 million homeowners, 29.3% of all homeowners, own their home free and clear. That compares with just over 14 million, about 20% of homeowners, who owe more on their home mortgage than their property is worth.
But the rate of free-and-clear ownership, like the rate of negative equity, isn't uniform across the country. Not surprisingly, the percentage of homeowners without a mortgage is greater in areas where homes are cheaper.
Post continues below
The state with the highest percentage of homeowners without a mortgage is West Virginia, at 45%, followed by Louisiana, at 39%, and Arkansas, at 38%. In contrast, the lowest rate of free-and-clear ownership is in the District of Columbia, at 21%, followed by Nevada and Maryland, both at 21%.
"Similar to negative equity, the free-and-clear homeownership rate is largely driven by home values – but in a different way," Cory Hopkins wrote at the Zillow blog. "Underwater borrowers are pulled to the surface as home values rise. But we found that in areas with proportionally lower overall home values, free-and-clear homeownership rates are likely to be higher. This makes sense – smaller loan amounts are easier to pay back more quickly."
The report also looked at mortgage-free homeowners by age. Not surprisingly, the age group with the greatest percentage of mortgage-free homeowners was people over 85, at 78%. That was followed by homeowners 74 to 84, at 63%, and homeowners 65 to 74, at 41%.
But the next-highest percentage was homeowners 20 to 24, 35% of whom owned their home free and clear. That is likely to reflect the fact that homeowners in that age group either are very wealthy or had their homes purchased by parents.
You can see all the data here, some of it down to the county level. The analysis also looked at mortgage-free ownership by credit score.
About Teresa Mears
Teresa Mears is a veteran journalist who has been interested in houses since her father took her to tax auctions to carry the cash at age 10. A former editor of The Miami Herald's Home & Design section, she lives in South Florida where, in addition to writing about real estate, she publishes Miami on the Cheap to help her neighbors adjust to the loss of 60% of their property value.
FIND YOUR DREAM HOME OR APARTMENT
msn real estate is social
WHAT'S YOUR HOME WORTH?
HOME IMPROVEMENT PROFESSIONALS
from our partners