Buying a house? Don't buy a TV before closing
Lenders are monitoring your credit profile from the time you apply for a mortgage until after the closing. Even inquiries about new credit could endanger your loan.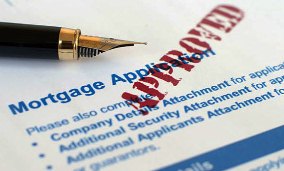 Last winter, as I waited to move into my new rented home, I ordered a flat-screen TV, to be delivered to the new place. I paid for it with a credit card. It seemed efficient.
If I had been buying, an expensive electronics purchase could have stopped the whole deal.
If you're buying or refinancing, you may have all kinds of plans for furnishing and decorating your new home. But as eager as you are to get started, you should not do anything that will affect your credit until after the closing.
Post continues below
Since 2010, Fannie Mae has mandated that lenders make sure that borrowers have not taken on additional debt since they filled out their applications. If your credit picture has changed, that could put your approval in jeopardy, as could changing jobs. Shopping for cars, even if you don't buy one, isn't a good idea, either, if your credit report is going to reflect inquiries from car dealers or credit unions.
"We tell our clients about this upfront and keep reminding them through the entire process not to go buy a new bed or a refrigerator," Michael Daversa, the president and founder of Atlantic Residential Mortgage in Westport, Conn., told The New York Times. "What you're supposed to do is keep everything status quo."
In many cases, lenders are doing more than a simple pre-closing credit check. Most are monitoring your credit 24/7 once you apply for a mortgage, syndicated columnist Kenneth R. Harney reports. A service offered by Equifax and used by lenders "can even detect subtle hints that a home purchaser is planning to add on new debt before the closing," Harney wrote.
This issue is most important for loan applicants who barely meet the standards for the allowable amount of debt. But, to be on the safe side, even those with pristine credit and low debt should wait to shop for furniture until after the loan has closed.
FIND YOUR DREAM HOME OR APARTMENT
msn real estate is social
WHAT'S YOUR HOME WORTH?
HOME IMPROVEMENT PROFESSIONALS
more on msn real estate