Storm victims may get reprieve on loan payments
Loan servicers have been asked to give Hurricane Sandy victims a break if they are late on mortgage payments. If you need forbearance, you'll need to call and ask.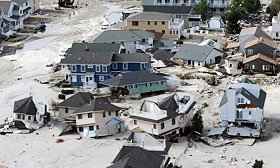 If your house suffered damage or was destroyed during Sandy, you may wonder if you still have to pay your mortgage.
The short answer is yes, even if you no longer have a home.
But you may get a break on due dates or even a period of months when you don't have to pay, though the unpaid balance will be added to what you owe.
Post continues below
The government-supported​ entities Fannie Mae and Freddie Mac have asked loan servicers to grant borrowers in the disaster zones a bit of mortgage relief: more time to make payments, a delay on foreclosure or other negotiated accommodations.
If the reason you didn't make payments on time was because your checks were destroyed, you had to leave your home or you couldn't go online to do your banking, having a few more days to make the payments without having your credit damaged or being assessed a late fee could be helpful.
But perhaps your home suffered more serious damage, and you'll now be spending the next year wrestling with contractors and insurance companies in an effort to get it repaired. You may even have to rent another place to live.
If you have suffered a disaster-related hardship, it's up to you to call your loan servicer, explain the situation and ask for forbearance or other relief. Any mortgage relief is granted on a case-by-case basis.
While Fannie Mae and Freddie Mac have asked loan servicers to grant borrowers whose loans they back some relief, there is no guarantee they will do so. It's up to each servicer to decide how it will treat late payments. If your only issue is lack of electricity, you may want to pay as soon as possible after your power returns to avoid late fees.
FIND YOUR DREAM HOME OR APARTMENT
msn real estate is social
WHAT'S YOUR HOME WORTH?
HOME IMPROVEMENT PROFESSIONALS