Obama pushes Congress to OK refinancing plan
Homeowners could refinance at today's lower rates with a minimum of documentation and no appraisal. But they would have to be current on payments.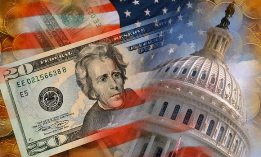 President Barack Obama announced the details Wednesday of the new refinancing plan he wants to Congress to adopt. While some analysts immediately pronounced the plan dead on arrival, others suggested it might have a chance of adoption.
For one thing, the chance to refinance at today's market rates would not be available to all underwater homeowners, only those who are current on their payments. Although that would not help homeowners in imminent danger of foreclosure, it may appeal to conservatives.
"I want to be clear: This plan, like the other actions we've taken, will not help the neighbors down the street who bought a house they couldn't afford, then walked away and left a foreclosed home behind," Obama said Wednesday. "It will not help those who bought multiple homes just to speculate and make a quick buck. What this plan will do is help millions of responsible homeowners who make their payments on time but find themselves trapped under falling home values or wrapped in red tape."
Post continues below
Basically, the plan would give homeowners who are underwater on their mortgage a chance to refinance their loans at today's lower rates without having their finances and home value scrutinized. They would, however, need to be employed.
These are the details of the plan, which would require congressional approval:
Only owners of single-family homes would be eligible, and they must live in those homes. The plan would not apply to rental properties or condos.

Homeowners must have been current on their payments for the past six months and have missed no more than one payment in the past year.

Participants need a minimum credit score of 580 (way below what is required for a conventional refinancing).

The loan amount must be within the FHA's conforming loan limits, which range from $271,050 to $729,750.

The streamlined approval process would require homeowners only to prove they are employed. No appraisal of the home would be required.

The cost of this program, estimated at $5 billion to $10 billion, would be paid for by a new fee charged to the largest banks.
Whether Congress and the president can agree on anything in an election year is a big question, but at least one commentator sees a glimmer of hope for this plan, despite the immediate negative reaction it drew from Republican members of Congress.
Several analysts have noted that allowing millions of Americans to refinance their home mortgage at lower rates would have the effect of injecting more money into the economy.
Plus, writing at The Washington Post's Plum Line Blog, Greg Sargent noted that GOP front-runner Mitt Romney had recently voiced support for a similar idea. He writes:
A few days ago, Romney said he was open to "providing a break to homeowners to get lower interest rates" if it can be done without adding "additional government obligation." Obama's plan would be paid for by fees on financial institutions.
What's more, Romney is heading for a primary in Nevada, where the foreclosure crisis is severe, so the politics of rejecting Obama's plan would be interesting, to say the least.
What do you think? Will Congress approve this refinancing plan? Should it? 
FIND YOUR DREAM HOME OR APARTMENT
msn real estate is social
WHAT'S YOUR HOME WORTH?
HOME IMPROVEMENT PROFESSIONALS