Foreclosure starts lowest since 2005
New foreclosures are down 44% from this time last year, but the numbers aren't falling in all areas. In 17 states, foreclosure starts rose.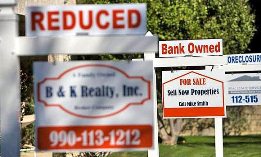 Foreclosure filings fell in August for the 35th straight month, with the number of default notices, scheduled auctions and bank repossessions down 34% from a year ago.
New data from RealtyTrac show that one in every 1,019 U.S. households received a foreclosure filing during the month.
The data indicate that the foreclosure crisis may be winding down. The number of properties on which foreclosure began in August was down 44% from a year ago and at the lowest level since December 2005.
Post continues below
"The foreclosure floodwaters have receded in most parts of the country, but lenders and communities continue to clean up the damage left behind, which means the recent uptick in bank repossessions is a trend that will likely continue into next year," Daren Blomquist, vice president at RealtyTrac, said in a news release. "Meanwhile foreclosure flash floods will continue to hit some markets over the next few months as delayed foreclosure starts are quickly pushed into the pipeline."
The news varied considerably by location. Foreclosure starts were down from a year ago in 38 states (using both judicial and non-judicial processes). That included some of the hardest-hit states, including Arizona (down 65%), California (down 57%), Michigan (down 55%), Illinois (down 66%) and Florida (down 65%). Foreclosure starts also declined sharply in Colorado (down 80%), Washington (down 65%), Massachusetts (down 66%), Indiana (down 54%) and Wisconsin (down 39%).
But the number of properties entering the foreclosure process rose in 17 states, led by Nevada (up 226%), Ohio (up 44%), Maryland (up 24%), California (up 12%) and New York (up 8%).
The foreclosure rate was the highest in Nevada (one in every 359 housing units), followed by Florida (one in every 383), Ohio (one in every 537), Maryland (one in every 609) and Delaware (one in every 638).
FIND YOUR DREAM HOME OR APARTMENT
msn real estate is social
WHAT'S YOUR HOME WORTH?
HOME IMPROVEMENT PROFESSIONALS
more on msn real estate